The Pick and Roll
Jock Landale certainly made an impression in his first Summer League game.
The centre had a double-double (25 points, 10 rebounds) with the Milwaukee Bucks, in their 106-107 loss to the Philadelphia 76ers. Landale hit 3 of his 8 attempts from the three-point line, and made all 10 of his free throws.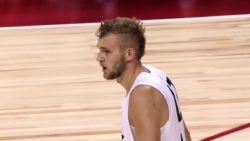 "I think last year, I was overwhelmed with the athleticism and physicality. Having a year over in Serbia, it taught me a lot. My coach over there, taught me a lot. My teammates, taught me a lot. If anything, I've matured as a guy and I've grown to love the physicality and speed of the game.
"Starting out, I was a little bit nervous… once I found my rhythm and found my confidence, I felt like I did well."
Landale smiled as he recounted his three-point attempts. "Well, they were leaving me open so I was going to let that thing fly. But that was something I started doing last year in Serbia, it's just something I'm just slowly trying to build on. I'll keep putting them up and hopefully they can fall at a higher clip."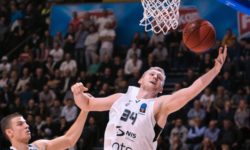 Compared to last year's Summer League, Landale looked remarkably more confident this year, and showed off a very smooth release on his three-point attempts. For someone who formerly subsisted on a steady diet of interior offence, the former Gael looks like he has reworked his game to suit the NBA environment.
"One day I want to get to the NBA," Landale told The Pick and Roll early this . "I know I wasn't playing my best in Summer League, but at the end of the day I feel I should have ended with a two-way deal. But it didn't happen and I am very happy with where I landed here at Partizan. If I keep up my patience and hard work as the most important factors in my development, I will get there.
"While I am relentless in pursuing my dream, I have to be patient and continue to understand this game the best that I can. I have set myself a two-year target in achieving my goal and playing in the NBA."