Another one that got away: Hannan
MITCH Hannan says Melbourne's 14-point loss to North Melbourne at the MCG on Sunday was "another one that got away".
Hannan, who kicked an equal career-best three goals, and sparked Melbourne's comeback in the second term with the opening two goals, said it was a frustrating loss.
"I was pretty happy with how the team responded after quarter-time, but as we reflected as a group, that start really made it an uphill battle from the get go and they were able to get come out on top at the end," he told Melbourne TV.
"I personally thought we were ready for the game – we were all in good spirits and up-and-about and quite focused, but as you saw from the first quarter, they got the jump on us and made things pretty hard."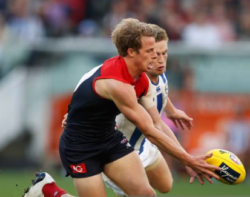 Hannan said Melbourne's second quarter, when it kicked 6.2 to 2.2, was the type of play it needed across the entire match.
"There was a momentum shift … we were able to get on a bit of a roll on, and get the jump on them and bring ourselves back into the game.
"I knew it was going to be a tough game … North and ourselves play a similar game. [We're both] very contested and very hard at it, so we were always going to clash and there were a few scuffles but that's all in the spirit of the game.
"It made for a good contest, when you've got two teams going at it as hard as we did."
Hannan, who kicked his second bag of three goals in his eighth AFL match, said he was pleased with his effort, but would've loved the win.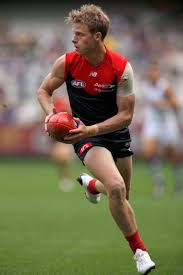 "I was happy with my individual performance," he said.
"It's unfortunate we didn't get the win from the team perspective, but I was just glad I was able to get involved in the second quarter and help with that momentum shift."
To watch Hannan's post-match interview, go to;
http://www.melbournefc.com.au/video/2017-05-21/rd-9-mitch-hannan-postmatch