Baker makes his late Mum proud
Article 25.11.17 (Matt Burgan)
IF TENACITY and resilience are traits you're looking, it's hard to look past Oskar Baker.
Personally, and professionally, Baker has proven both.
Cut from the Brisbane Lions academy in 2015, Baker dealt with something far greater this year, when he lost his dear mum to cancer.
Having experienced the loss of his mum and endured a football disappointment, Baker still managed to fulfil his dream: being drafted by an AFL club, when he claimed the last spot on Melbourne's list for 2018.
For the record, Baker was claimed at No.48 in Friday night's NAB AFL Draft.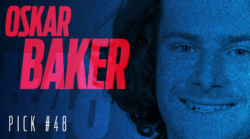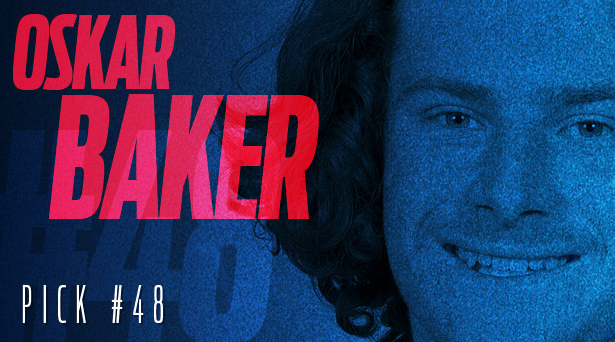 "It's an unbelievable feeling and a dream come true. It's something I've been working towards, especially over the past couple of years, with a few setbacks, by being cut from the Brisbane Lions academy and my mum passing away this year as well – they've motivated my dream of playing in the AFL," Baker told melbournefc.com.au.
"I'm just completely overwhelmed, and to have my family and friends around me when it happened – it means as much to them, as it does to me.
"To have the opportunity to join such a great club in Melbourne – it's something I'm truly excited about. I can't wait to meet all of the boys and work with all of the coaches and start my AFL journey."
After being cut from the Lions academy in 2015, as a 17-year-old, Baker managed to fight his way back and shine for Aspley in the NEAFL this year.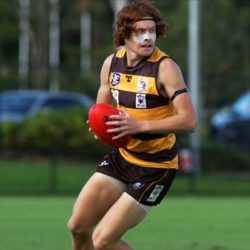 (Baker in action for Aspley in 2017)
It was his performances this year for the Hornets that drew the interest of several AFL clubs.
But in the back of his mind, his Mum was his inspiration.
"Mum in many ways was my biggest supporter. To achieve something I've always wanted to – it means even more. One of the last things I said to Mum before she passed was 'I'll achieve my AFL dream and get onto an AFL list'," he said.
"I'm sure she'll be super proud. It hasn't sunk in yet – it'll sink in that I'm a Melbourne player in the next few days. Mum would be unbelievably proud and I honestly couldn't be more proud to join the club."
Baker spoke openly – and proudly – of his mum, explaining what she endured in her fight.
"In 2013, Mum was diagnosed with breast cancer. After surgery, she fought the cancer and it went away for a few years," he said.
"At the start of 2016, she was diagnosed with bone cancer. She underwent chemotherapy for about a year and a bit, but never really improved from it.
"I hadn't seen Mum healthy and fit for a couple of years. I'd come home from footy training and Mum would be in bed, so she passed from bone cancer midway through this year. It had spread through her liver.
"As much as it seems strange to say, it wasn't a shock to see Mum pass away, although it definitely shook up the family.
"But after telling her about my AFL dream, I was definitely motivated to do it. It makes the moment even more special that she's probably looking down on me right now and is super proud, along with the rest of my family. I owe it to her and the rest of my family."
The Queenslander said he was a late developer, which was why he was recruited as a 'mature-age' player.
"Growing up, I was a pretty small kid. When I came through the Lions academy, I was about 160cm tall, as a 15 or 16-year-old, but I've grown about 12 or 13cm since and put on about 12 or 13kg in weight," Baker said.
"I think as I've developed, I've grown in confidence – even though I've always liked to take the game on and create some running drive. Now I've got more confidence to jump in packs, take some marks and win the contested ball.
"I like to back my pace and can distribute the ball well. I can hit the right options and I'm pretty composed with the ball."
The midfielder will arrive at Melbourne, knowing fellow Aspley product, Josh Wagner.
"I knew Josh's brother Corey [Wagner, formerly of North Melbourne] a little bit more, but when Melbourne got in contact with me, Josh and I got in contact more," he said.
"Even leading up to the draft, Josh sent me a text and said 'it'd be great if we played together'. He sent me a text after I got drafted and said 'it's unreal'. It's a dream come true knowing that I'm going to a club with a guy I've got to know over the past couple of years.
"I got a bit nervous as the draft went on, but I thought Melbourne and GWS would be the most likely. When pick No.48 came up, I couldn't believe Melbourne secured me. I'm rapt."