Be like Baynes: Why Jock Landale could be our next Aussie in the NBA
Damian Arsenis – The Pick and Roll
Jock Landale's impressive NBA Summer League form with the Milwaukee Bucks is making people sit up and take notice.
25 points and 10 rebounds in the Bucks' opening game loss to Philadelphia by Landale certainly raised a few eyebrows. He backed up with 13 points and 8 rebounds in a come-from-behind win against the Atlanta Hawks, and then provided 12 points and 8 rebounds in another efficient performance in a loss to the Timberwolves. Landale was not done yet either, pouring in a further 23 points in just 23 minutes as the Bucks accounted for China.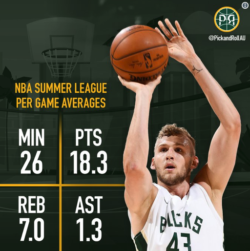 "I think last year, I was overwhelmed with the athleticism and physicality," explained Landale after his opening game performance.
"Having a year over in Serbia, it taught me a lot. My coach over there, taught me a lot. My teammates, taught me a lot. If anything, I've matured as a guy and I've grown to love the physicality and speed of the game."
Cleveland Cavaliers guard Matthew Dellavedova spoke glowingly of his fellow Saint Mary's alumni, and was not surprised by Landale's excellent Summer League showing,
"I caught up with Jock a couple of times before Summer League when he was in California and he was in great shape and he has been working hard," explained Dellavedova in speaking with The Pick and Roll.
"You can obviously see that hard work paying off with how he has started with the Summer League."
Landale's Summer League campaign was shut down for the Bucks final outing, leaving the centre with an outstanding 18.3 points, 7 rebounds and 1.3 assists average across four Summer League games in Las Vegas. For those who have been following Landale's progress in Europe this past season, they would not be surprised either.
The big man has been a dominant force for Partizan Belgrade across their deep post-season runs in both the EuroCup and ABA Liga competitions in his debut professional season. He quickly became a fan favourite, and showed an ability to come up big down the stretch in tight games for Partizan.
Making the jump from Europe to the NBA is a path that has been increasingly common for Australian players over the past decade. David Andersen made the jump from Barcelona to the Houston Rockets in 2009, while Joe Ingles (Maccabi Tel Aviv, 2014) and more recently Ryan Broekhoff (Lokomotiv Kuban, 2018) have also made a successful transition.
However Aron Baynes' leap from Europe to the NBA is possibly the most accurate comparison to draw when assessing Landale's NBA aspirations. When you delve further into the detail, Landale's statistical output is eerily similar to that of Baynes in his final season in Europe with Union Olimpija in Slovenia back in 2012/13.
Baynes's pathway to the NBA was not prototypical, and it is the same path that Landale must now tread if he wants to realise his NBA ambition.
Like Landale, the 6'10 centre carved out a very good four year career at Washington State in the traditional proving ground that is the Pac-12 in the NCAA, his first steps as a professional were in Lithuania, far from the bright lights of the NBA. However Baynes used his time in Europe wisely, refining his game, and four years later, the NBA finally came calling.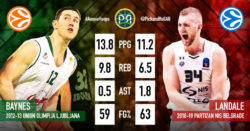 Playing in the EuroLeague in his final year in Europe, across 10 games that season he provided 13.8 points at 58.7 per cent shooting with 9.8 rebounds per game.
In comparison, Landale averaged 11.2 points at a sizzling 68.3 per cent shooting from inside the arc with 6.5 rebounds and 1.8 assists per game in progressing through to the Top 16 of EuroCup during the 2018/18 season. In Partizan's run to the semifinals of the ABA Liga, he posted 12.0 points (61.1% 2PT) with 5.6 rebounds and 1.8 assists per game. His numbers are exceptional for a rookie centre playing in two of the tougher leagues in Europe.
One of the question marks on Landale's game was his ability to step out and hit the three-ball, something he was never required to do given the Gaels offensive set up in his four years at Saint Mary's. The Melburnian was able to show he could do so at better than 30 per cent in Europe this season, and he has already demonstated his proficiency in NBA Summer League, connecting on 8 of 17 of his three-pointers for a 47 per cent clip.
"It was something I didn't have in college at all," shared Landale after the win against China. "I think I shot like, 8 three's in college. It's something that I learnt I had to develop, and my club in Serbia did a great job in teaching me that."
Landale's ability to run the floor, play and score efficiently, while setting strong screens and rolling to the rim are highly valued in the NBA. An ability to stretch defenses and hit three-pointers is likely to be the facet of his game that will net him his first NBA contract.
Baynes is now a 7-year NBA veteran with the 2014 championship earned with the San Antonio Spurs against his name. Dellavedova believes Landale is ready to make the next step as soon as this season.
"Whether it is with the Bucks or somebody else, when you are playing like he is, it is not just about the numbers, but the way he is playing," added Dellavedova. "He is showing he can shoot the three-ball, and as skilled like he is, I definitely think he will get picked up by somebody.
"You can see what Baynes is doing in the NBA. I don't think it's rocket science. I think you are going to see more and more Aussies over there [in the NBA] which I think is awesome."
Landale signed with Lithuanian EuroLeague giants Zalgiris Kaunas in the offseason, and is believed to have NBA-out clauses in his contract. However the Aussie big man let it be know that he is not seeking a two-way deal.
"[A two-way] isn't something I'll probably go for," Landale said in speaking with Liam Santamaria.
"I told my agent I want to stick in Europe until a full contract comes around… if a full contract comes around we'll roll with it, but a two-way probably isn't something I want to get involved with. It's nothing against it, just a preference."
Judging Landale's European exploits and outstanding NBA Summer League, he looks set to make the same transition as Baynes, and could well become the next Australian to play in the NBA.