Belle Brockhoff back to World No.1 after another Snowboard Cross (SBX) World Cup victory
Belle Brockhoff has triumphed in the 2016-17 season's third snowboard cross World Cup race which was staged in Bansko (BUL) over the weekend.
Belle lived up to the crowds expectations after coming out strong through the time trials and then backing it up with a convincing win in the final. The event was the sole SBX sprint race on the circuit and Belle's second World Cup Victory of the season. This result has now placed Belle back on top of the SBX World Cup Leader Board ahead of Eva Samkova who was the Olympic Champion in 2014. The event featured tons of interesting and exciting knock out heats therefore making the first ever sbx World Cup on Bulgarian slope a short but sweeping show and a true advertising for the sport.
Brockhoff took out the victory in front of thousands of noisy spectators and fans and will look to continue this rich vein of form as she now looks towards her next World Cup race which will take place in Feldberg, Germany in just over a weeks time.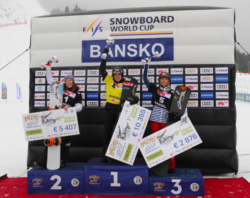 "I'm really happy with today. It's been a fun time here in Bansko. They put up a good show, and they built a really good course which worked really nicely. It was the most technical start section that we had. That's cool to see. I love these kind of starts," Brockhoff said.
With a course length of only 20sec, no turns but a straight line, course builders had focused on the features to avoid a pure drag racing. However, good gliding skills combined with a perfectly waxed board also helped riders to do well.