Bradtke commits to Melbourne
By Matthew Goodrope
AUSTIN Bradtke will officially join Melbourne as a Category B rookie on November 1 this year.
Highly sort after, the 17-year-old, 204cm tall Bradtke was presented with a number of offers to join rival clubs, but chose Melbourne, after what he described was a difficult decision.
"At the end of last year, Dad (Mark) told me he got a couple of calls asking if I was interested in playing footy and Melbourne was one of the teams. I decided probably about a week ago that I wanted to come to Melbourne and since then it has been a bit of a whirlwind," he told Melbourne Media.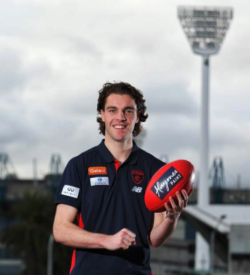 "All the clubs that presented to me were really good, and it was a tough decision, but I know this is where I felt like I could get the best out of myself and I am happy to be here."
Coming from an elite sporting background, parents Mark and Nicole played basketball and tennis at the highest level.
Mark, well known as a former basketball player for the Melbourne Tigers, also spent time with NBA team Philadelphia 76ers in 1996.
Nicole, a former professional tennis player, reached No.24 in the world, in women's singles.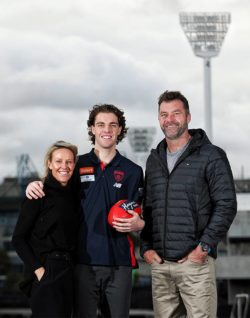 Choosing Melbourne seemed like a perfect fit, as Austin and Mark Bradtke have supported Melbourne since the early days.
"I have been a Melbourne supporter my whole life, so it's a dream come true to [hopefully] play for the club in the years to come," he said.
The process started last year when Mark fielded some calls from AFL teams, asking if Austin had any interest in attempting an AFL career. Austin and his family only decided last week that Melbourne was the club.
"Probably about a week ago, it all moved pretty quickly. Mum and Dad are fully on board with my decision."
General manager of football operations Josh Mahoney said there was a very high level of interest in Austin from the outset.
"Understandably, there were a number of clubs interested in adding Austin as a Category B rookie and it was a competitive process."
"Austin's decision is another positive for the environment that we are continuing to build at Melbourne."
"Austin played representative football as a junior before concentrating on basketball at 15, he is currently 204cm and shows the athleticism and competitiveness required to succeed at the level."
"Austin's parents Mark and Nicole, were both competitive, high performing athletes who know what it takes to succeed in this type of environment."
"Both Corey Maynard and Joel Smith started as Category B rookies and have since played AFL football. We believe that the combined efforts of our recruiting, coaching and high performance teams help us to ensure that we bring in the right type of people to give them the best opportunity to develop and succeed." Mahoney said.
Once a training program is approved by the AFL, Austin will be able to complete a specified number of sessions including conditioning and gym work, one on one skills work with coaches and a limited number of training sessions with our VFL affiliate the Casey Demons.