Breust happy to be back on the Sunshine Coast for gruelling pre-season training
AUSSIE RULES: You can almost hear the collective sigh of relief when Hawthorn Football Club's players and coaching staff got off the plane at Sunshine Coast Airport.
When the Melbourne-based squad arrived on the Sunshine Coast earlier today for a 10-day pre-season camp – the club's fifth in the past six years – the players looked relaxed and happy to be here.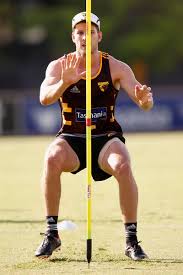 None more than small forward Luke Breust, who returns with the squad in preparation for his seventh season of senior footy.
All being well, the 26-year-old will play his 150th game this season. He is close to being considered one of the club's leading senior players.
Getting out of the pressure cooker environment that builds around AFL players in the "sporting capital of the world" must have its advantages.
But Breust said there was just three things that made the Coast the ideal place for a pre-season campaign.
"There's something in the water up here," he said.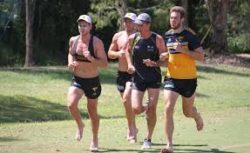 "It's a great environment to train hard, recover well and get to know your team-mates really well for a week or so."
The Hawks arrived on the Coast last year preparing to defend an AFL premiership for a third successive year.
Signs were good mid-season which included a nine-game winning streak, before things turned pear-shaped at the back end.
Hawthorn eventually bowed out of the finals in straight sets and were downed by eventual premier Western Bulldogs in the first semi-final.
Breust said the Dogs had set a new benchmark in terms of game style in 2016.
"Their ability to continue to move the ball and their hands in close is exceptional," he said.
"We've got some work to do in that area and I'm sure it's something our coaches have identified we can continue to work on during the pre-season.
"I'm sure once games roll around we'll know where we're at and what we need to improve on."
The Hawks will be based at Mooloolaba this week and will hold a fan day at Mooloolaba Beach on Saturday, December 17.