Cordner rises to the challenge
By Ben Gibson 17.02.19
HARRIET Cordner was handed one of the most daunting challenges in the AFL Women's competition on Sunday.
She was tasked with negating Lions' power forward Sabrina Frederick-Traub, and she did her job to perfection.
Cordner restricted her opponent to just four disposals at Hickey Park, with this battle playing a major factor in the Demons 39-point victory.
And although Cordner only officially found out on the morning of the game that she'd be up against Frederick-Traub, she was more than ready to go.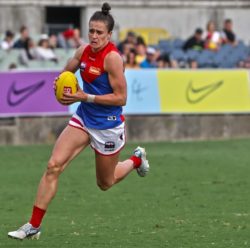 "They tried to keep it a bit quiet so I could focus on my own game but I kind of had an inkling that that's what I'd be doing," Cordner told Melbourne Media.
While the versatile defender was prepared for her opponent, she insisted it was more important to worry about what she could control – herself.
"I played on her last year and just watching a bit of her vision from this year which I've done during the week," Cordner said.
"But I kind of just wanted to focus on my game and not take away from that."
Cordner's individual display was superb, but restricting Brisbane's powerful forward line takes a complete team effort.
"It's really important what get's done further down the ground," she said.
"Obviously the entries they were getting into their 50 weren't great because of the pressure our mids were putting on and our wings coming back and helping out.
"So it's absolutely a team effort."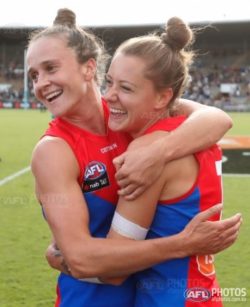 Melbourne's midfield was dominant on Sunday afternoon, led yet again by Lauren Pearce in the ruck and Karen Paxman around the stoppages.
The Demons continued to win the ball out of the centre and pressured Brisbane into errant forward entries, setting the tone for the game.
"I think we just really pride ourselves on our fundamentals and when our mids are executing them really well, like they did today, it just changes everything and we can do what we did in that second quarter," she said.
The Demons will be looking to continue their winning streak when they face the undefeated Kangaroos at Casey Fields next Sunday.
To listen to Harriet chat with the media post match, click the link below:
http://www.melbournefc.com.au/news/2019-02-17/aflw-cordner-rises-to-the-challenge