Cyril support helped pave the way for Long
When Ben Long first moved from Darwin to Melbourne in 2014 he found the transition difficult, but he didn't have to look too far support. He found it in the form of his famous cousin, Cyril Rioli, who had travelled a similar path years earlier.
While four-time premiership star Rioli relocated to Scotch College before he was drafted by Hawthorn in 2007, Long uprooted his life in the Northern Territory to pursue a new chapter at Melbourne Grammar, ironically the arch nemesis of his cousin's alma mater.
"It's been a great experience moving from Darwin all the way down south to Melbourne Grammar and living in the boarding house for three years. Moving down was hard at the start, I had relatives that I leant on but it was a great experience for me finishing Year 12, so I'm very happy," Long told saints.com.au on Wednesday.
"My cousin, Cyril, has been in Melbourne for so long. When I came down I looked up to him as a big brother to me. During the hard times when I came down I'd go and see him on weekends and spend time with him quite a bit, which helped me in my three years being comfortable down in Melbourne."
On Friday night, an anxious Long was overcome with relief when AFL chief executive, Gillon McLachlan, read out his name at pick No. 25, snapping the tension that had mounted from weeks and months of anticipation.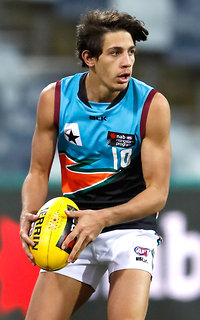 (Ben Long in action for the Allies)
"In a way, I was relieved, but at the start of the draft I was very nervous and at the same time excited. Me and my family [were] at home back in Darwin, very nervous and very relieved in the end, but very happy," Long said.
In the lead up to the National Draft, St Kilda had shown significant interest in the wiry utility who light up the VFL at the tail end of the season. He had an inkling the Saints might pick him, but he wasn't expecting them to help fulfil the first part of his football dream.
"I spoke to them quite a bit during the year and they didn't give too much away. I had thoughts in the back of my head that there was a lot of interest from St Kilda, but I didn't really expect it," he said.
Long's first few days in the AFL system have been spent organising a passport ahead of St Kilda's pre-season camp which starts in New Zealand on Thursday.
In the space of a handful of days, the Northern Territorian has moved back from Darwin to Melbourne, and by tomorrow morning he will set foot on overseas soil for the first time. Safe to say it's been a bit of a whirlwind for Long.
"I have been running around for the last three days now sorting my passport out, which should be good to get this afternoon now," he said.
"I'm excited to travel overseas for the first time to New Zealand on the training camp with the boys. We don't know what we're up for so we're obviously very nervous but it will be good to build relationships with the boys on the trip."
To watch Ben Long's interview about how he feels being a Saint, go to; http://www.saints.com.au/news/2016-11-30/cyril-support-helped-pave-the-way-for-long