Balancing life as a professional athlete with full-time work is no easy task, but for the majority of AFLW players, it is reality.
Initially for North Melbourne Tasmanian Kangaroos' recruit Jasmine Garner, it meant getting her hands dirty and leaving no stone unturned in her pursuit of excellence.
"I was doing landscaping in my first year of AFLW," Garner told North Media.
"I would start work at six in the morning, work all day and then go to footy training and wouldn't finish until 10 o'clock at night. And then would do it all again the next day."
For Garner and many of her teammates and opponents, it's a flashback to the pre-2000s when AFL players had second jobs.
A lot has changed for Garner however. She recently signed with North and has begun part time employment at Arden St as the club's Academy Operations Coordinator.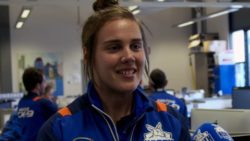 "I'll be looking after the NGA (Next Generations Academy), which is an elite development program for 11-15-year-old boys and girls," Garner explained.
"I'm excited to be helping these young boys and girls with their development in footy."
Garner's positivity for the new role understandably high.
"My first week we travelled to Tasmania to meet a few of our NGA boys which was pretty exciting," she said.
"Last week I got the opportunity to go to the snow with The Huddle program which was great."
Unlike landscaping, Garner couldn't find any negatives in her new line of work.
"I'm actually really enjoying sitting at my desk, and I'm still getting used to seeing the AFL boys come through and do their review a couple chairs away from me … it's all really exciting," she said.
"I consider myself quite lucky to be given this opportunity and to be working at the North Melbourne Football Club as a day job but then also playing footy here."
Garner says sitting in the football department has advantages.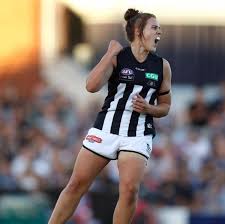 "I'll be sitting a couple chairs away from my AFLW coach, Scotty (Scott Gowans) … if there's anything I need to work on or if I need to watch some vision … I'm definitely going to benefit from it."
For Garner, the ultimate goal is for all AFLW players to be full time athletes.
"That's always been the dream, to play AFL as a full-time job, just like the boys," she said.
"But we'll just take it each year as it comes and I appreciate all the opportunities that I get, being able to play AFLW is great."