GOOSEBUMPS JUST THINKING ABOUT IT – Maddie Coates
Someone asked me recently what goes through my mind when I'm running a 200m.
The answer is a lot. And also, almost nothing. Here's what I mean by that.
The first thing I normally do in the 200 is compare who I'm next to, to see whether or not I'm doing well, and whether I'm sitting in the right position. Normally, I pick up speed when I come off the bend and slingshot into the straight, and then I get up nice and tall and say to myself, 'Keep relaxed, keep your arms relaxed'.
Then when you hit the front, you're just like, 'This is what I've trained for, this is the moment', and hopefully you just run away with it.
But at the same time, you don't really think much about anything until it's all over. There's kind of not much that goes through your head but, 'Just run, just run. Pump those arms!'.
You never stop working until it's over, that's the most important thing. And you never celebrate too early, because you never know what's going to happen.
A lot of the thoughts that come into your head can be negative. I wouldn't say I get too many positive thoughts. It's more like 'What I can do better?'.
It's strange. You're running the race like nothing is ever enough. And then you cross the line and you're like, 'Awesome, that was enough. I achieved that'.
And then you look back at the video and you go, 'Oh', and you pick up things you did wrong, some of the negatives. It's an never-ending challenge to run the perfect race.
THE FORM OF MY LIFE
I grew up in Hurstbridge, which is kind of like a little country town just north of Melbourne at the end of a train line. It's nice and quiet.
My mum used to be an athlete herself so she was heavily involved in track and field at my age. I loved sport and she got me into athletics when I was about seven. It started off as a little bit of fun as I was doing a lot of other sports at the same time.
When I was about 11 years old, I missed out by one place on making the Victorian team, and Mum said, 'Maybe it's about time we get you a coach'. It all just escalated from there.
Then I got to the ripe old age of about 15 or 16 where I had to choose between two sports – basketball and athletics. It was a heartbreaking moment because I loved both sports, but at the time, I thought that I was better at athletics and I could make something out of it. I'd been quite passionate about it since a young age, so I went with athletics and have stuck with it ever since.
I miss basketball all the time. I've still got friends that are involved in it, and when I see them, I'm sometimes like 'Oh, I wish I could go back.
But now here I am, about to compete on my first senior Australian track team at the Commonwealth Games on the Gold Coast.
When you hit the front, you're like, 'This is what I've trained for'.
My events are the relay and the 200m. We've got a great relay team, and I'd like to say we're a medal chance. In the 200, my realistic goal would be the semi-finals. I think the final might be a bit far-fetched, but we have to stay positive and I can't rule anything out. I'm not saying I can't make a final.
My form this season has been really good. I did my PB in 200 at the nationals, and that was 23:09. I hope I'm peaking at the right time. I'm not going to do this my whole career, but this season, I've pretty much run a PB every time I've run.
I'd ultimately love to run sub-23 seconds in the 200. I'd be over the moon with that result, and it's not unrealistic, especially because my PB run in the nationals wasn't a perfect race. I actually had the slowest first 100 I've run in a very long time, and that pretty much lost me the race.
If I'd run the first 100 that I ran in my heat, I would have won the race, because I came home the fastest I've ever come before.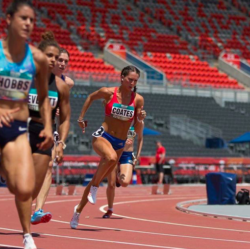 'THIS IS AWESOME, I CAN DO THIS'
I have never run in front of a crowd anywhere near as large as we're going to have on the Gold Coast.
The biggest crowd I've experienced would have been the world juniors in Eugene, Oregon, in 2014. In Australia, we don't really get the big crowds, unfortunately. But the stadium should be packed on the Gold Coast, so that will be my first big crowd in Australia.
I get goosebumps just thinking about it. It's crazy.
I'm so lucky to be competing on home soil on my first senior Australian team. It will be so loud and everyone will be cheering for me, and I feel like I'll just get really pumped and be thinking, 'Yeah, this is awesome, I can do this'.
This season I've pretty much run a PB every time I've run.
Some people say a big crowd makes them extra nervous, but I feel like it will help get rid of my nerves, I'll be able to calm down a little bit, I hope. The crowd could almost wash away the nerves.
They'll all be behind me and supporting me no matter what happens, so I've just got to go out there and do my best and soak it all in, live in the moment.
IT TAKES ALL TYPES
I'm not your average body shape for a sprinter. I'm six foot tall and very lean. It's a unique sprinter's build, it's very rare.
When I line up in 100 metre races, I'm always the leanest. But it's all about your top speed, you know? I've got two things in common with Usain Bolt: we're both tall and our starts are not so good. But my top speed is powerful and gets me to the line near enough to first most of the time.
I've had to work extremely hard to improve my start. I think it will also improve with developing and working in the gym. A lot of the people I compete against have years and years on me, I'm still a baby in the sense of where I am at the gym and I'm only 20.
So I feel like if just keep doing what I'm doing, I know that my start is never going to be my strongest point, but if I can get the back end of my race right, I'm sure I'll be OK. We've all got something to work on, nothing's ever perfect.
Away from the track, I work in retail at Ishka, which is kind of like a hippie store with very bright and colourful furniture and jewellery and pillows and stuff. I'm pretty relaxed person with a bubbly personality who just goes with the flow, but I wouldn't say I'm a hippie. Or at least I don't dress like one. I pretty much just get around in active wear. I'm also studying personal training online.
But right now, it's all about the Commonwealth Games. And do you know what I'm looking forward to most?
I'm looking forward to making new friends at the Games, new relationships. There are lots of people older and wiser than me on the team that I'd like to meet and get close with, and talk about their experience and stuff like that.
And I want to run faster than I ever have before.