Hannan hooked on finals fever
Darcy O'loghlen (20th September)
MELBOURNE forward Mitch Hannan says he is lapping up every moment of Melbourne's drought-breaking finals campaign.
Hannan has peaked at the perfect time of the year and told Inside Melbourne that he never expected to be playing finals footy a few weeks ago.
"It's pretty surreal, I've never played in front of such a crowd of that size two weeks in a row, especially on a Friday night," Hannan said.
"It's pretty amazing to be in finals for one but also winning and enjoying the ride with the rest of the guys.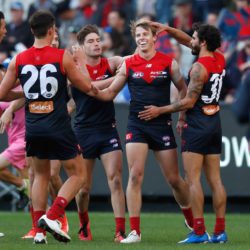 "I had a bit of an up-and-down season in terms of form and injury, and I found myself in and out at certain times of the year.
"Two months ago, finals footy was definitely not on my radar but here we are."
The 23-year-old also provided a first-hand perspective of one of the moments of Melbourne's finals campaign, when he scored on the run against Geelong late in the game.
"That wasn't obviously the plan. As you can see of the footage of me running at the goal there, I was pretty keen to dish it off, because there were a couple of options," Hannan said.
"As it panned out, I was pretty thankful that [Lachie] Henderson slipped over, and I had a bit of a free run from about 60 to 70 metres out and thankfully it went through.
"As that happens, it's a bit of a numbing feeling, everyone seems to recount it and say that was the loudest they heard the crowd all day and I hardly heard anything at the time."
Looking ahead to the preliminary final against the Eagles, Hannan believes that Melbourne's brand of footy will nullify any influence by the hostile Perth crowd.
"I think finals brings that sort of footy out, where the best team on the day will definitely win; whether it be over in Perth, which is a pretty hostile environment and their fortress to be playing in," Hannan said.
"I think if we go over there and play the brand of footy we know we can bring, it [the crowd] won't really be a factor in the end and anyone can win."