THE past week and a bit has been a whirlwind for Mitch Hannan.
Last Friday night, the 22-year-old was Melbourne's first pick in the 2016 NAB AFL Draft – No.46 overall. Now, the impressive young man has completed his first week at the club as he starts life on an AFL list.
"It was a good night [last] Friday with some family and friends and my sisters and their boyfriends were there as well," he told Melbourne TV.
"I wasn't trying to put any expectations on myself [entering the draft] – I was trying to lay low a bit – but it definitely came earlier than I thought.
"I'm absolutely stoked to be here [at Melbourne]."
Although a mature-age recruit, Hannan's chances of getting drafted this time around were strong.
Seven clubs had sounded him out and it is known that at least two clubs were genuinely disappointed to miss out on his services post the event.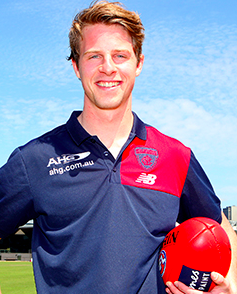 Some clubs had spoken to him for half-an-hour, as others conducted extensive interviews. Melbourne did "quite a bit of research and seemed quite interested", according to Hannan, but he added that some clubs didn't give much away.
"I did have quite a bit of interest and it came late," he said.
"I was open to the idea of it happening and going anywhere.
"I was always keeping my hopes up, but I didn't know where or when, but when it happened I was absolutely ecstatic and I couldn't be more thankful."
Hannan's story harks back to his hometown of Gisborne, where he played football from the age of 11, and still resides today. It's the same local club as another Melbourne recruit, Pat McKenna. He knew McKenna, but his older brother better, given "it's a small town". Hannan played at Gisborne until he was 16, before moving to Woodend, a club closer to his high school and his tight-knit group of mates.
From there, Hannan moved to St Bernards with a close friend, whose father coached the under 19s. He played at St Bernards for four years, including two years in the seniors. During his time with St Bernards, Hannan was invited to train with Essendon's VFL program, but missed out on selection.
But after playing in St Bernard's 2015 premiership – where he won the Jock Nelson Medal for best-on-ground – Hannan claimed a spot on Footscray's VFL list and played in its Grand Final win over Casey Scorpions this year.
He managed 14 games and kicked 19 goals, improving significantly, with his aerial feats a feature of his game.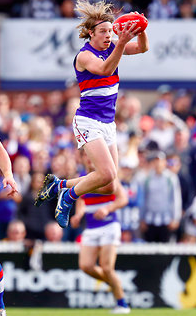 So why did it turn around for him this year?
"I seemed to hit my straps a little bit and I became more comfortable with the level of VFL footy. I progressed from local footy and missed out on some TAC Cup stuff and a VFL program before getting to Footscray," he said.
"I think I've just been constantly building and improving my game, and showing I can match it with some of the AFL-listed players. Being able to finish off the year strong and progressively getting better definitely helped me out.
"I had a little bit of a setback with my shoulder, which put a bit of a dampener on the start of the year. Getting back straight back in the side told me that Footscray had a bit of faith in me and then I was able to play some good games."
On his marking ability, which gained plenty of interest after some genuine hangers this year, Hannan said it was something that was simply part of his game.
"The first one happened pretty early in the season and it was in round one," he said.
"It got a little bit of attention, which was good, but I've always naturally had a reasonably good leap. I just managed to hang on to a couple this year, which probably helped in my regard, so I was happy about that.
"It's just a part of my natural athletic ability – just being able to run and jump and I just managed to be in the right time and the right place a couple of times this year."
Hannan said being exposed to Footscray – and the Western Bulldogs – in a year which saw the club win the VFL and AFL premiership respectively was invaluable.
"There was a lot of success around the club this year, with the ones, the VFL and the women's [team] – it was a good place to be," he said.
"At night after a day of work, you definitely get to mix with the AFL guys a bit and see the life that they live.
"A couple of times a year, I got to do a few training sessions with them, so it definitely gives you a taste of what it's like to be training with them and involved in their lifestyle."
Hannan became a Footscray premiership player after it, coincidentally, defeated Melbourne's VFL affiliate, the Casey Scorpions. Now, many of his opponents that day will be his teammates.
"It's quite ironic that towards the backend of the season I was playing against Casey a couple of times, so a lot of the guys here, I've played a handful of times.  Now I'll be running alongside them, so it'll be good fun," he said.
"When you're at a VFL list, you make way for a lot of the guys that are trying to grow in certain areas, so you're trying to fill the gaps a little bit."
"I enjoy [playing up] forward and I've played a little bit there … so [I enjoy playing] a little bit of both – forward and midfield."
In striving for his AFL career, Hannan combined full-time work and a VFL career, like many others.
He drove roughly 45 to 50 minutes from Gisborne to the city, after waking up at six o'clock and getting into work a bit after 7:30am for his job in commercial drafting. He would work until 4:30pm and then catch the train to Footscray for training, before getting home at 10pm. This was the norm for three days a week.
"It meant for a busy lifestyle for close to a year there," he said.
"I finished uni last year in architectural building design. I landed a job through a friend in Melbourne, on Collins St, so I had been there for close to a year, doing commercial drafting work.
"I was working under architects, who I've become good friends with now. I've enjoyed it and it's been a lot of fun."
Now, football is his focus, so too is round one, which he hasn't discounted.
"I'd love to think so. I'm coming back with a little bit of rehab work to do, with a bit of an injury, but that's something I'll work on throughout the summer," he said.
"If I get myself fit and up and going, I don't see why not.
"I'd love to think that my progression from the VFL would match it with some of the guys in the AFL."