High-flying Demon puts hand up for recall
Mitch Cleary 01/09/10
THREE goals and a screamer headlined Mitch Hannan's day in the VFL as he put his hand up for a recall in Melbourne's elimination final against Geelong on Friday night.
With coach Simon Goodwin and the entire senior list watching on, Hannan showed no signs of the knee injury that kept him out of last week's win over Greater Western Sydney.
One of Casey's best against a Geelong side fielding 17 AFL-listed players, Hannan partnered with Cam Pedersen (four goals, 25 disposals) and both starred in the 91-point win.
With the game in safe keeping in the final term, Hannan flew above a pack of three before going back to kick his third major at Casey Fields.
The 24-year-old was joined by Tom Bugg (24 disposals) and Joel Smith (two goals) on the bench in the final 15 minutes with the Demons turning an eye to Friday night.
"I've been waiting for him to take one of those for two years because at Footscray in the VFL he used to take them all the time," Casey coach Jade Rawlings said of Hannan's final term fly.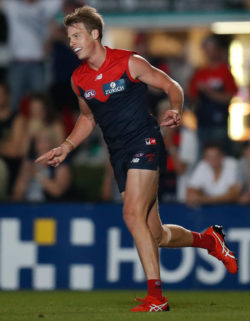 "I thought it was the best mark I've seen this year, I thought it was outstanding.
"I thought he had a great game, he looked sharp in all his movements so clearly the knee wasn't too much of a problem."
With co-captain Jack Viney impressing on Saturday morning and set to take the place of Dean Kent (AC joint), Hannan could be in line should Dom Tyson (fractured arm) fails to get up.
Bugg, last week's carryover emergency, was busy early for Casey when the game was on the line, while Smith proved he could be a finals smokey after returning from a broken collarbone.
Smith finished the match with ice on his quad, but Rawlings was confident it was only a "knock."
"I thought it was a great effort, to have surgery three and a half weeks ago, he (Smith) knew this was the target week," Rawlings said.
"He was given that incentive by the doctor, the surgeon and the rehab team and he achieved it."
Jayden Hunt worked into the game in his first game back from an ankle injury, while Jeff Garlett's pressure impressed his coach.
Geelong coach Shane O'Bree was left to lament a "damning" performance around stoppages, smashed by the bigger bodied Casey outfit.
"Around the contest, that was pretty damning," O'Bree said.
"A lot of our mids today got exposed. I think it'd be good for them all just to re-assess where they're at and come ready to do the work during the week.
"A lot of young players playing their first final. Did we get overawed or did we just expect it to happen? I think it was the latter."