"I CANNOT SIT DOWN FOR MORE THAN HALF AN HOUR!" MAYO'S SARAH ROWE ON KEEPING BUSY WHILE IN ISOLATION
Mayo star Sarah Rowe says she's "really hungry" to get back playing when the ladies football championship gets underway after the COVID-19 pandemic. 
The Kilmoremoy clubwoman was this week selected as the AFLW Irish Player of the Year after impressing in her second campaign with Collingwood, which ended with a defeat to North Melbourne in the playoffs, before the season was ended due to the coronavirus.
The 24-year-old managed to get one of the last flights out of Melbourne before a lockdown on air-travel – with the plane making a stop to be cleaned in Hong Kong en route to Ireland via London.
"I was really lucky to get home in the end," Rowe told Off The Ball from a family home where she's currently isolating in Ballina. "I am one of those people who doesn't really panic about things until it literally hits me in the face.
"When the season was ended I saw flights being cancelled and I didn't want to get stuck over there, now if I had I would have managed but it wouldn't have been easy not having friends or family around you. Even the friends I was living with in Australia had gone back to their families so I would have there alone so I was just delighted to get home.
The women's AFL campaign was brought to a swift conclusion on March 22nd due to measures to control the spread of the coronavirus being ramped up in Australia. Rowe had lined out for Collingwood in their loss to North Melbourne in the playoffs just days after the decision was made to start the men's AFL season in empty stadiums and for the women's competition to be shortened straight to conference finals.
"The players were allowed to vote on what they wanted and we felt the season should either stay at it was (rather than being streamlined) or be cancelled on public health grounds. You didn't really want to a Premiership in those circumstances with no supporters of friends in attendance and not even being able to hug each other after a game, it just wouldn't have been the same.
"Our gut feeling was that they should have kept going as is and then make a decision on whether things could continue. It was a weird feeling that week, we went out training on Wednesday and there still had been no announcement or communication about what was going to happen. We were essentially going out training without a purpose and deep down we all knew it was only a matter of time before the season was going to be pulled.
"We tried to train hard and get mentally switched on for the (North Melbourne) game but everyone was just drained and as things were evolving it was clear that things were happening that are more important than sport. On the Friday we had a training session another the new protocols and there was no high-fiving, all our own water bottles. You weren't allowed be at the club at certain times and it was so quiet and eerie because the men's team and the netball weren't around.
"On the day of the match there was just a strange atmosphere, you weren't really allowed interact with your teammates or the opposition and we all kinda knew the season would be ended anyway. It was a strange feeling.
"It was also becoming clear how many people were being affected by the pandemic and that decision to end the season was 100% the right thing to do."
Rowe is now following a training regime devised by Mayo's strength and conditioning coach Conor Finn while in social isolation and she's hoping to hit the ground running when the ladies football season resumes this summer:
"When you come back home there's a bit more expectation on you, because I had injured my shoulder I hadn't really played football for nearly a year when I got back last season and while I was physically strong and fit it took a bit longer to transition back and get into it. I was able to run all day because I we had done lots of endurance work in Collingwood but I felt I'd lost a little bit of speed and it took about six weeks of work on that. Also in terms of the game it's an adjustment, when I got the ball I was expecting someone to jump on my back rather than looking to move the ball quickly and I just had to re-learn old habits which I had lost while away.
"It's kinda suiting me at the moment to be able to concentrate on doing a bit of ball work on my own and am just keeping a football in my hand as much as possible.I also played with my club right up until I left for Australia back in November and I think that could help as well.   I got in touch with Conor Finn to ask for some help with getting some direction with the training I'm doing at the moment.
"It's important to have goals and to have purpose, even though we don't know how long this will all last and when games might return. I really am missing sport because I haven't played gaelic football in around five months and being away for the game has made me really hungry to get back out there. It has been nice to be like a kid again and to be walking around Ballina again with a football in my hand. It's very uncertain times but it's possible to keep doing a bit to stay doing a bit within your two kilometres as well."
The Mayo forward, who has been living with her boyfriend, London Irish flanker Sean O'Brien, says she's been trying to stay active during the shutdown rather than sitting down to gorge on Netflix.
"I've been doing the burpee challenge with Sean and that's one burpee on day one and two, three, all the way up to fourteen. It's been tough! And I'm also doing a press-up challenge for the Laura Lynn Foundation, which is 3,000 press-ups across the month of April. Obviously at times like this it's hard for everyone but charities are really struggling.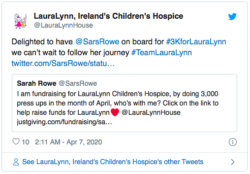 "Over the last few weeks I think we've all been figuring out what's really important to us and things like that are so important to support at the moment.
Charities are getting knocked hard, as much as business people and the rest of us have been too. Other than that I've been doing a lot of running, home gyming with the equipment I have at hand, preparing healthy food and listening to podcasts. I'm also doing a bit of studying as well, I was studying Neuro-linguistic programming while in Australia which is very relevant to sports people and you know there's plenty of things to keep you going and I'm also looking into a few other courses while I have this time off as well.
"I cannot sit down for more than half an hour, it's just not me really, unless I'm really tired or it's a wet winter day and the fire it on, I like to keep as active as I can."