Irish star picks the Pies
September 5, 2018
Irish Gaelic footballer Sarah Rowe will add another string to her bow as a rookie for Collingwood's AFLW team in 2019.
Rowe is a star forward for Mayo in the Ladies Gaelic Football Association in Ireland and will take part in the AFL women's competition during the break between seasons.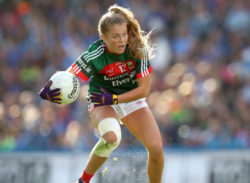 The 23-year-old from Ballina Mayo said she was excited to move across the globe and get prepared to take on the foreign sport.
"I know I'm up for a big challenge taking on a new sport on the other side of the world, but that's what makes it so exciting," Rowe said.
"Having visited Australia earlier this year I was able to meet the coach and players at Collingwood, which made the decision a lot easier. I was welcomed in to the club from the beginning and everyone was so generous to share their time and knowledge."
At 169cm, Rowe has seen success in both football and soccer in Ireland but admits that transitioning into Australian rules football will be another challenge.
"I watched Australian football and, like any new sport, I know the game will have different demands on my body.
"I hope that kicking the football will be something that comes naturally although learning to tackle will be new to me as there's much less contact in Gaelic football."
Rowe's signature was sought by clubs across the league during her visit to Australia in May and Collingwood Performance and Strategy Manager Marcus Wagner said he was pleased with her decision to join the Magpies.
"When Sarah visited the club earlier in the year we were very impressed with her professionalism and drive for success.
"During her visit she was able to work with our coach Wayne Siekman and connect with some of the playing group. We think it's a great endorsement of our program that she chose to join us and we look forward to getting her back at the club later this year."
Rowe is currently overseas recovering from shoulder surgery and will relocate to Melbourne ahead of the AFLW pre-season later this year.