Jetta added to leadership group
Melbourne FC website
MELBOURNE has finalised its leadership group for the 2019 season, promoting veteran defender Neville Jetta to the four-man squad.
Jetta, who has earnt the respect of his teammates and coaches since joining the club in 2008, was told of the news in front of the playing group last week.
The 29-year-old is universally adored and is expected to thrive both on and off the field with this added responsibility.
He has been a standout defender for the Demons for a number of years and is a life member of the football club.
General Manager of Football Operations Josh Mahoney said he was thrilled to see Jetta take on this new role.
"I have been fortunate to see Neville's growth as a player and role model first hand over the last 10 years," Mahoney told Melbourne Media.
"He represents all of the characteristics that we want in a Melbourne person and we are glad that he has been recognised in this way."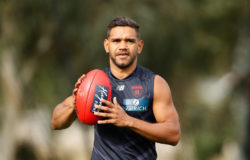 Nathan Jones and Jack Viney will continue to share the co-captaincy in 2019, while Max Gawn will also remain in the leadership group.
Veteran Jordan Lewis won't be officially included in the group, but his contribution to the team won't be lost entirely.
He will work alongside the coaching staff to further enhance the football program and add value with his leadership experience and thorough football knowledge.
"After chatting with Jordan about the next phase in his development, we decided that he would step away from the leadership group this season and transition into a role working closely with the coaches," Mahoney said.
"Jordan was brought to the club to improve our leadership and he should take a lot of the credit for the quality and depth that has been created.
"Jordan will still play an important role assisting the leadership group throughout the year."
Mahoney said the club has a wide range of leaders, leaving it in a great position heading into the 2019 season.
"Going through the process, it has become evident that we have a really strong group of leaders developing within the playing group," Mahoney said.
"The depth of leaders have built year on year and are now well represented throughout our playing group."
2019 Leadership group
Nathan Jones (co-captain)
Jack Viney (co-captain)
Max Gawn
Neville Jetta