Jetta earns life membership
NEVILLE Jetta was awarded a life membership by the Melbourne Football Club at the Annual General Meeting on Monday night.
The 28-year-old has faced adversity throughout his career since being drafted to the club in 2008 and has exceeded his own on-field expectations to date.
"I really just wanted to play one game when I first rocked up," Jetta told Melbourne Media.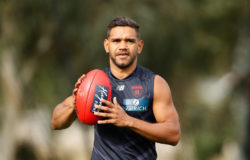 "To now be a part of the life membership of the oldest club in Australia and the world is something that I will truly honour."
Jetta has played 141 games for the Demons, but his career was at the crossroads at the end of 2013 when he was delisted and re-drafted as a rookie.
"That year was very tough for me, I sort of felt a bit embarrassed," he said.
"Looking back at the first five years, they were definitely tough in my career.
"It's probably well documented about what I've been able to go through and the setbacks and resilience I needed to have to be the player and the person I am today.
"I'm very thankful for the support I had through that time because without that I don't think I'd still be around."
As well as being a beloved member of the Melbourne team, Jetta has made significant contributions to the community.
He has performed mentoring roles to support Indigenous youth, as well as being an ambassador for both Red Cross and Headspace.
"Off-field I really just try to have something that's outside football that I can concentrate on, and that's being able to give my time to the community," Jetta said.
"A lot of the times I just can't say no because I know the impact that I have.
"And then the impact it has on me from me being in the community and seeing the faces of the kids that I get to interact with.
"It definitely has that flow on effect where I was able to come to the football club and enjoy myself and do what I needed to do whilst there and work as hard as I need to work."
While Jetta thoroughly enjoys volunteering in the community and playing the game he loves, it's his family which has got him to where he is today.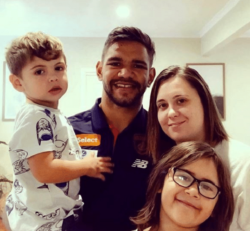 "Those two things were well rounded by having my family at home," he said.
"I can go home and just be a father, be a husband, be a brother, be a son.
"So that definitely helped my game."
Jetta said this milestone will be something he reflects fondly upon at the conclusion of his career, but for now he is just happy to enjoy the moment with his loved ones.
"To not only be a player but be a life member is something that I truly cherish long after footy," he said.
"And it's not only for yourself, for me, its for my family as well."