Jetta's inspiring school visit
The 29-year-old ventured out to Cranbourne Carlisle Primary School and inspired the younger generation in what he claims to be one of the most powerful visits he's done to date.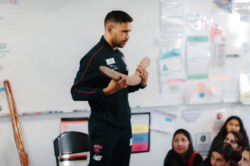 "It was a bit of a breath of fresh air," Jetta told Melbourne Media.
"Obviously we do a lot of clinics every year and over my 11 seasons I've done a few now, but to be able to go out and speak about something that I'm really passionate about is really meaningful.
"I really enjoyed it and from what I saw, I think the children and the teachers also enjoyed it."
Last Friday, the school had a day full of celebration, where the kids participated in Indigenous inspired sports, games, dances and activities.
Melbourne's vice-captain, who has a proud Indigenous background, is known for his work in the community and was the recipient of the Jim Stynes Community Leadership Award in 2018.
Jetta is incredibly passionate about his work and helped this school celebrate a special day by taking along some personal items which he displayed.
"To take some stuff out which connects me to my culture, and to sit down and show these students not only what they are but what they mean to me and how I stay connected, is pretty powerful," he said.
"I took down a didgeridoo, a boomerang – which we made at our All Stars camp in February – a kangaroo skin which is my grandfather's totem and our 2019 Indigenous Guernsey."
The Demons' defender was able to connect with these students on a whole new level and said he thoroughly enjoys being a role model for young people.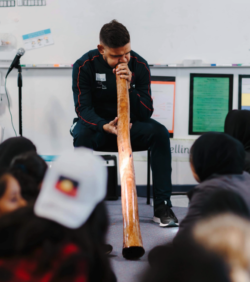 "They don't see me as just a footballer anymore, and after some of those conversations we had, it started to change pretty quickly," Jetta said.
Jetta has been sidelined with a knee injury since Round 5 this season, but his off-field work has been a great outlet for him.
"It gives me a bit of a release from footy and it's something that has helped me over my career," he said.
"When I'm able to invest in stuff outside of football, my football starts to get better.
"It makes it even more meaningful when I'm able to feel like I can have an impact."