Recap: Jok 'ecstatic' to don the sash
Tom Jok grew up as an Essendon supporter after being inspired by his favourite player David Zaharakis' memorable match-winning goal on ANZAC Day in 2009, and he told media on his first day that he was thrilled to join the club.
"I'm pretty ecstatic, I'm an Essendon supporter so this is the best thing that could have happened for me," Jok said on Monday.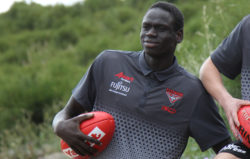 Jok's recent footballing journey to an AFL contract has been far from conventional, so he admitted to not allowing his hopes to soar too high on draft night.
"I was just watching with an interest," he said.
"I was just hoping someone would take a bite and pick my name out, so when Essendon did come calling I was very, very happy."
Despite being overlooked in multiple drafts after playing for Dandenong in the TAC Cup and representing Vic Country in 2016, Jok refused to give up on his dream.
He played a pivotal role in the recent premiership successes of St Kevin's Old Boys Football Club in the Victorian Amateur Football Association over the last two seasons, mesmerising all with his smooth skills and brilliant athleticism, while also representing and starring for the league against its South Australian counterpart.
Such was Jok's impact in Victoria's top amateur division that Collingwood introduced him to its VFL squad midway through this year, where he continued to impress and have an influence on each game.
A breakthrough performance against Sandringham in round 21 solidified his position as a genuine and exciting AFL prospect.
Jok gathered 26 disposals, eight marks and 18 hit-outs in the match when successfully tried in the ruck, with his elite ability to fly at the football completely outweighing his comparatively insignificant 193cm stature.
The 21-year-old says the chance to spend time in the VFL system and gain a greater insight into professional football has been a key factor in his continual improvement this year.
"(I learnt) just how to go about football really, learning all of the new terminology," Jok said.
"We're playing against more AFL players each week, so being in that environment got me more exposure I suppose and helped me develop my game and it's gotten me to where I am now."
His football apprenticeship continued in recent weeks, where a stint training with St Kilda saw the youngster gain further experience. While he said his time in Moorabbin has put him in good stead for his first days at The Hangar, Jok said it will still take some time to settle down.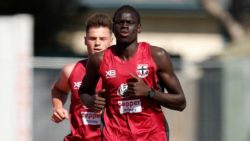 "St Kilda was enjoyable, it taught me how to go about it as a footballer, so it's made this experience today a bit easier.
"(I'm) still nervous actually, it's a whole new group and it's a big club as well so my nerves are quite high at the moment."
Jok said he would initially target some younger Bombers for advice and insight as he acclimatises to The Hangar, but he is also looking forward to picking the brains of the club's more experienced brigade.
"I'll try to pinpoint the younger players, because they're going into their third pre-season now so I'll try to learn as much as I can off them.
"And obviously then I'll just go to the older blokes just to learn about their professionalism.
"I'll work my way up, because the younger guys have something to say as well and they've got enough experience by now."
While Jok is yet to spend much time with John Worsfold, the young gun's early impressions of his new senior coach have been overwhelmingly positive.
"I haven't had a lot to do with Woosha yet, but he's very gentle so far, very welcoming.
"I've been starstruck I suppose – he's quite a decorated man, John Worsfold – so I'm looking forward to getting to know him over the next few days."
Jok, who now joins trailblazers such as North Melbourne's Majak Daw and Sydney's Aliir Aliir, says he hopes to continue to inspire Australia's vibrant South Sudanese community.
"It means a lot obviously, I was getting a lot of messages as well from a lot of people from my community (after being drafted).
"(I want) to be another role model, as Majak and Aliir have led (the way). It's a good feeling and I'll certainly try my best to be the best role model I can be and the best individual I can be."