Jolting Jetta joust puts Dees closer
Martin Blake (The Age)
Neville Jetta is just 180 centimetres tall and weighs 82 kilograms, but he has always fought out of his division.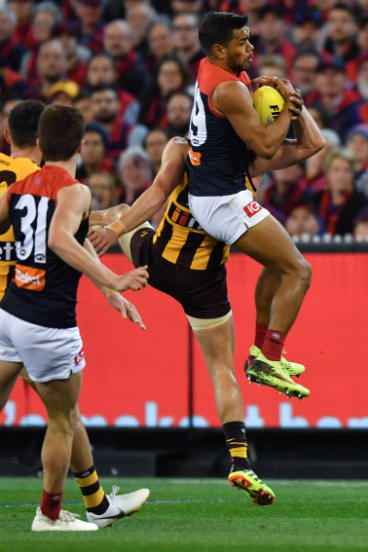 When Jetta hit Tom Mitchell at full speed on the wing in the first quarter of Friday night's first semi-final between Melbourne and Hawthorn, it felt like the impact reverberated around the MCG.
It was a symbolic moment, for Mitchell represented a danger to Melbourne with his 35 disposals a game form in 2018, and the Hawks' midfielder stayed down for a long time after Jetta caught him unawares just after his kick went forward.
Mitchell went to the bench, his right shoulder in pain, coming back later to complete a slightly below-par game. Jetta bounced off and proceeded to become one of the most influential figures in the contest as the Demons advanced to a preliminary final against West Coast in Perth.
The 28-year-old Jetta, unwanted by Melbourne five years ago, played on Luke Breust most of the night and kept him goalless. This is no mean feat: Breust's 54-goal, All-Australian season included just five games in which he did not bother the scorers.
West Australian Jetta missed All-Australian selection, beaten for the small defender's role by Rory Laird of Adelaide. If you ask the Melbourne people about it, they are mystified. ''He's probably, I think, so stiff not to be All-Australian, to be honest,'' said teammate Christian Petracca. ''He's a freak, one of the best one-on-one players I've seen. He does what the team requires.''
Jetta, who had his career reactivated by then coach Paul Roos when he was rookie-listed in 2014, has a habit of being there in the big moments. In Melbourne's first final against Geelong, he had taken down Joel Selwood in a brutal tackle that seemed to encapsulate the Demons' tough approach. He had just seven disposals that night, but he was important, and then on Friday night against Hawthorn he linked up nicely out of the back half, gathering 17 disposals, all the while keeping a close watch on Breust.
''I've got a lot of respect for Breusty,'' Jetta said in the rooms afterward. ''He was All-Australian, we share the same management group, I know him well.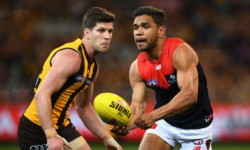 I've played on him a lot of times. I was just happy that Cyril [Rioli] wasn't playing out there and they had Cyril and Breusty all together. I was happy to play my role and keep him a bit quieter. I felt like our back six were unbelievable tonight even with the saves on the line.''
He had a point about Melbourne's defensive group, which was criticised earlier this season but which has improved out of sight in recent times. The Demons were only the ninth-best defensive team of the 2018 regular season, a low ranking for a prospective grand final team, but in the finals they have conceded just 16 goals in two games.
Oscar McDonald and Sam Frost took their jobs on Ryan Schoenmakers and Jarryd Roughead and handled them nicely, Frost hitting a high point when his 65-metre torpedo from full-back set up a Melbourne goal in the first quarter. Christian Salem continues to thrive in his mop-up role with his precision kicking, and he also has had two very good finals, as has Michael Gibbered.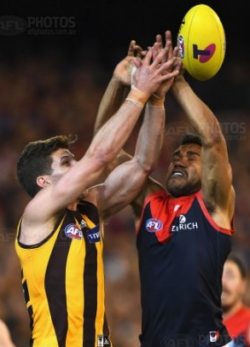 Hawthorn had more inside-50 entries (54 to 50) but could only manage 10 goals. ''They [the back six] kept us in it, to be honest,'' ruckman Max Gawn told SEN yesterday.
Right now, Melbourne don't seem intimidated in the slightest. We already knew that they could score heavily, they were the No.1 scoring team in the competition this year, and they hit 100 points again on Friday night. But now they are defending well, too.
''We've got good people in charge,'' said Jetta. ''We've got Brendan McCartney, who saw Geelong win their premierships, Simon Goodwin did it at Adelaide. These people know what it takes. They set the game plan up to perform on the big stage. We've been doing that to some extent, but we know there's more to be done. We're going to give it a good shake.''
In the rooms on Friday night, there was a sense of calm and a message that rang in their ears to stay focused. ''We've got some older players, older heads in the team,'' said Jetta. ''Jordan Lewis has been there and done it. He really helped the group straight away to make sure 'the job's not done'. We're not here to make up numbers. That was the message he gave us before the finals started.
''We're here to play our best footy, make sure we play well week in, week out. We're looking forward to the next challenge.