Keath named amongst the AFL's most likely 2019 All-Australian prospects
The AFL has released their list of players who they believe are in the running for All-Australian honours at seasons end. Amongst the list of exciting prospects is OMP Sports very own Alex Keath.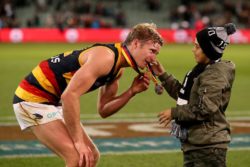 Alex's 2019 season to date has been outstanding to say the least. Ranked second in the League for intercepts and in the top 20 for marks, the Key Position Defender is also averaging 18 disposals per game.
To see the full list of players, click the link below: https://www.afl.com.au/news/2019-06-26/your-clubs-midseason-all-australians-who-makes-the-cut