Landale hands Partizan win over Zvezda and second straight Korac Cup trophy
Jock Landale kept his cool and handed Partizan win over Crvena Zvezda in the Radivoj Korac Cup Final.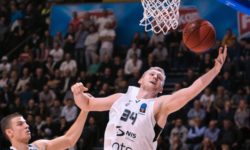 In a balanced game with a thrilling finish, Partizan grabbed the narrow 76-74 win against Crvena Zvezda in the Radivoj Korac Cup for the second straight year.
After Alex Renfroe put Partizan ahead 74-72 with a triple, Zvezda's Ognjen Dobric missed two free throws but grabbed an offensive rebound and tied the game with two seconds left. However, Partizan had the final say as Jock Landale got fouled during an alley-oop and banked both free throws to secure the game.
Landale finished with 18 points while Renfroe notched a double-double with 18 points and ten assists along with seven rebounds.
For Crvena Zvezda, Billy Baron nailed 18 points in addition to Joe Ragland and Dejan Davidovac's 17 each.