Long following in AFL indigenous footsteps
By Roger Vaughan
St Kilda AFL youngster Ben Long is walking in the footsteps of giants.
Long has paid tribute to his uncle Michael Long and fellow AFL indigenous greats Nicky Winmar and Gilbert McAdam as the Saints launch their reconciliation action plan.
The current Saints' sister and aunty helped to design the indigenous-themed guernsey that the team will wear later this month for the Sir Doug Nicholls round game against Carlton.
Appropriately, this year's indigenous round will honour Michael Long, the Essendon star and a legendary figure in Australian sport.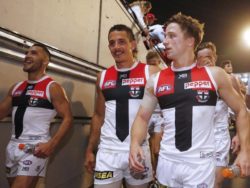 "To have my uncle who's gone before me, and especially Nicky and Gilbert McAdam – I'm following in their footsteps, to stand as a strong indigenous man," Ben Long said.
Winmar and McAdam were also at Monday's launch of the St Kilda reconciliation plan.
The contrast between Winmar coming from a small WA country town to the Saints in 1987 and the start to Ben Long's AFL career could not be more stark.
The only player Winmar knew at Moorabbin when he arrived was Trevor Barker.
Long has the support of an extensive network including his uncle.
"When I moved, I had family down here and I was obviously very lucky having Michael as my uncle," Long said.
"He's only a phone call when things are hard."
Winmar is also one of the AFL's most-important indigenous figures, famously raising his jumper and pointing to his skin in 1993 after racial abuse from Collingwood fans.
He praised the Saints for the reconciliation plan and wants current indigenous players to have better opportunities for life after football.