Luke Breust discusses the upcoming 2018 season
With just one hit out remaining before the real stuff begins, Hawthorn triple-premiership forward Luke Breust promises the Hawks will be taking Saturday's JLT Community Series clash with Carlton very seriously.
The introduction of AFLX and the subsequent reduction of the pre-season series has meant each club now only gets two chances to show their wares before round 1, with Hawthorn's latest trip to Launceston's UTas Stadium set to play a key role in preparations for its date with Collingwood on March 24.
But Breust, who has kicked 304 goals in 161 games in the brown and gold, said he could see positives and negatives in the new format.
"Having only those two pre-season games really does force your hand to make it a full dress rehearsal to get as much match conditioning into as many guys as possible, to ensure you have a pretty healthy and larger squad for round one,'' the 27-year-old told Fairfax Media.
"I am a fan of it as we (the players) do think two games is enough if you do get full games into yourself ahead of round 1.
"But the disappointing thing is from a younger guy's perspective, as I was in that position coming through and got some opportunities (under the old system) which I might not have necessarily got, and you are limited with the experimentation of different tactics now.
"But just having those two genuine cracks is great, and the footy benefits, as well as the supporters who turn up to those pre-season games.
"It's not just a young sides, but is a genuine contest and they should be able to watch some good football."
He also believed this new format had delivered "more of an emphasis on winning", although the focus on the "processes" was still more prevalent.
Breust said the Hawks, who are coming off a 22-point loss to the Western Bulldogs in Ballarat, would be wary of Brendon Bolton's Blues, who looked quick and attacking against St Kilda.
"It does seem like they are trying to take the game on a little bit more and get their ball movement quicker from end to end,'' Breust said.
"We need to be wary of that, so our defence is going to need to be on to get some frontal pressure going to cut down their time and space to use the footy or they are going to be able to do what they want.
"I thought from the weekend our ability around the stoppage to get our hands on it and move it forward was a real positive, and if we can get some continuity through our midfield, I think that will be a real find for us this year.
"And as I said, the defensive side of our game will have to be a massive focus as well this weekend, and try to restrict them to under 100 points, as that was probably the reason we lost to the Doggies."
Breust, a rookie draft selection from 2009 who hails from New South Wales, said the performances of swingman Ryan Schoenmakers, midfielder Tom Mitchell and James Sicily off half-back had impressed him the most this pre-season.
But he did admit things were a bit different at Waverley with premiership skipper Luke Hodge now calling Brisbane home.
Hodge's departure comes a year after Sam Mitchell and Jordan Lewis also found new football homes.
"It has been a completely different feel around the club, especially for me, as when I came into the club the leadership was Mitchell, Hodge, Lewis and Gibson (retired defender Josh Gibson),'' he said.
"To now have all of them officially gone from the club and Roughy (captain Jarryd Roughead) and those guys officially taking over it has been a completely different feel.
"But they have driven some pretty high standards in the playing group.
"I wouldn't say we're looking to fly under the radar, but we do set some pretty high standards for ourselves, and our goal is to finish top four, as that is what we do every season as it gives you the best chance to go deep into finals."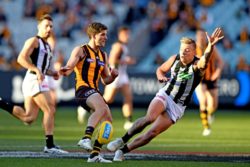 Breust described his own pre-season one of the best he has had.
"It has been a really strong pre-season and the best I have felt for a number of years.
"I've had niggling groin issues that have troubled me a bit over the last couple of seasons, so to do things pain free and be moving freely on the track has been a massive win.
"Personally I do have some goals for this year.
"I am always around 60-70 shots on goal, so I will be looking for something similar again, as well as putting on that forward pressure and being that link player.
"Also, I'll be looking to push up into the midfield where I can to support those guys and give them a rest."
Saturday's game will start at 7.05pm.