Mitch Hannan voted as No. 1 goal for 2018
Ben Gibson – Melb FC website
Mitch Hannan has been voted in for kicking the best goal at Melbourne in 2018, running the length of the wing to seal the Demons first finals victory since 2006.
With just under 10 minutes remaining in the Elimination Final against Geelong, Hannan gathered the ball on the Members wing, took three bounces as he streamed inside 50 and poked the ball through to extend Melbourne's lead to 28 points.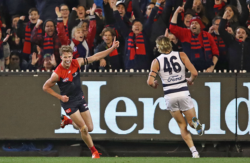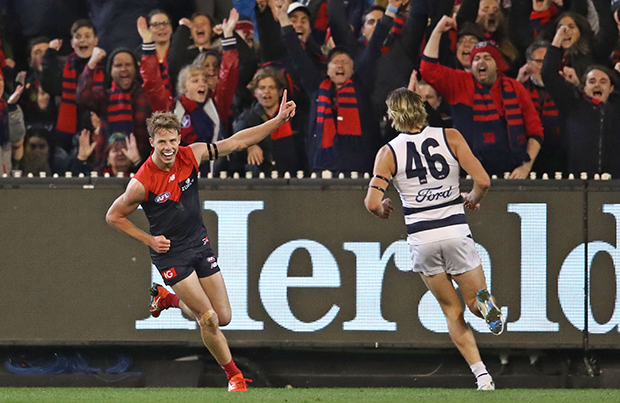 It was the most significant moment in the context of Melbourne's season after the club had been deprived of finals success for 12 years.
"Leading into that game I'd obviously never played in an AFL final, so the game in itself was probably the biggest game I've ever played in," Hannan told Melbourne Media.
"Then obviously to be a part of the moment was really special as well."
The 24-year-old recounted his thought process as he bolted away from Lachie Henderson that memorable Friday night.
"I knew we'd had a quick burst out of the backline and there was a fair bit of space over the back," Hannan said.
"It was probably to my advantage that my opponent at the time (Henderson) had slipped over, so I knew I had a little bit of space, but the first thing that came into my mind was to not stuff the bounce up.
"So my initial thought was to get the bounce in and then see what was up ahead."
After a lengthy sprint, Hannan began to tire, but still had the toughest challenge yet staring him in the face – conversion.
"I probably was fatigued but in a moment like that in the fourth quarter the adrenaline is pumping and it seems to kick in a little bit," he said.
"I knew I'd had a pretty big run and I saw there were two teammates streaming up the inside.
"To be honest, my initial thought was I was going to wait for one of the defenders to come at me and chip it over to Jack (Viney) who I thought was in open space, but it wasn't to be.
"As I was getting closer and closer to goal I was a little bit indecisive, and then I thought I better just take this upon myself, and I'm just thankful it went through in the end."
Hannan has etched himself into Melbourne Football Club history with his famous running goal, but he is just happy to have brought such joy to so many loyal Demons fans.
"It was amazing to be honest, the crowd was the loudest I've ever heard it before," Hannan said.
"I hadn't really realised what had happened until I saw a couple of teammates and the expressions on their face as they were running towards me looking for a celebration.
"Then I was like, gee that was pretty special.
"It probably wasn't until a few seconds after when I heard the crowd roar that I realised what had gone down."
click the link below to watch Hannan's match winnin goal: