Mitch makes most of magic moment
A COFFEE catch-up with a mate and some relaxing time at home may not have calmed the pre-match nerves of AFL debutant Mitch Hannan, but the half-forward didn't let it show as he booted two goals in an impressive first-up display against St Kilda at Etihad Stadium on Saturday.
Hannan, who played in Footscray's VFL premiership last year, returned to play at Docklands, where he experienced another outstanding win – Melbourne's first over St Kilda in 11 years, ending a 14-game streak.
The recently-turned 23-year-old said it was "pretty unreal" to be part of the red and blue's 30-point win.
"I was pretty nervous this morning – I'm not going to lie. With a later start, I was trying to kill some time and I went for a coffee with a mate and then I found myself at home thinking about the game, probably too much in the end," he told Melbourne TV.
"I got to the game and then the nerves settled a little bit – once you get to see your teammates and the coaches, and you start to get into your routine, then it all falls into place."
"It was a relief [to get my first touch]. It was a handball and it was early, which got the monkey off the back a little bit."
Hannan, who also had 16 touches, five tackles and five inside 50s, said he was happy with his first-up effort.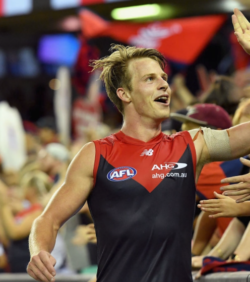 "I'd definitely take that. I was due to play a half-forward role for the majority of the game, so if I could kick a couple of goals – that was my aim," he said.
"It was a bit of relief – I was pretty heavy in the legs, I'm not going to lie. When that final siren went, it was just good to know we got the victory and I was off to the Gatorade shower.
"It was really good. In your first game, we always want to get a win, so you can experience something like that, so I'm just thankful for the opportunity and it was great that everyone got around the four debutants and celebrate the win."
To watch Mitch's post-match interview, go to;