Neville Jetta 'On The Mark' interview with Fox Footy
MELBOURNE defender Neville Jetta says it was "tough" seeing Sydney great Adam Goodes' difficult end to his career.
Anna Harrington – Fox Sports
Goodes infamously pointed out a Collingwood fan who had called him an "ape" in Round 1 of the 2015 season and was regularly booed by opposition fans throughout games for the rest of that year, which would prove to be his last.
Jetta said as an Indigenous player, it was difficult to witness the racist abuse and treatment of Goodes in his final season.
"It was probably hard, obviously to see him playing and playing against him and the stuff that was directed towards him," Jetta said on Fox Footy's On the Mark.
"It was definitely tough as an Indigenous player who have connected through our Indigenous camps over the years, and to sort of feel helpless was probably the hardest thing.
"But then the messages that he continues to put out there is he's all about the future and wanting to move forward and finding a way to work together, is something that I probably took out of that, and to continue to not only put that message through him but put it back on the other people that are probably throwing a bit of stuff towards him."
Jetta also opened up on his experience of growing up with a father who was part of the Stolen Generation.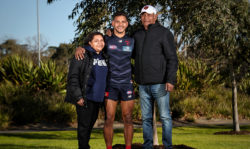 "He's one of 14. Grew up or was born in a country town … in Western Australia, about two-and-a-half, three hours out of Perth," Jetta said.
"And from I think he might have been nine or 10, him and his brothers and sisters were taken away, told that their parents didn't want them no more and taken to Perth and put through all different boys homes, my dad ended up in a prison as well, throughout Perth.
"And it was obviously a tough time for him and his brothers and sisters and they were all separated all over Western Australia.
"So he was there 'til 15-16 years old and finally let out to be with his elder sister who was living on a farm at the time."
Jetta said his father had helped instil resilience in him as a person, while he had always worked to ensure his children could be the best people they could be.
"To have someone like that to be my father, is something that definitely instilled that resilience within myself to be able to achieve my goals because pretty much from the time I was born, with me and my siblings, he did all he could to support us," he said.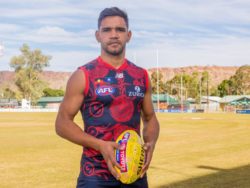 "And there was bit of not worry — probably would say worry — about us being taken away if he did anything wrong.
"So growing up, he was always real hard on us as children. Couldn't be out any later than like 10 o'clock, sun down, you're inside. And just wanted for us to be the best people we could be.
"Alcohol and drugs and all that stuff was just excluded from our family and it was really frowned upon through him and his really hard stance."
Jetta has a long history of giving back to the community and using his position to have an influence — having been involved in mentoring Indigenous youth, along with taking on ambassadorial roles for charities including the Red Cross.
He said he prided himself on being accessible and giving back to the community.
"Obviously I grew up in a community where everyone helps each other — (an) Indigenous community where things were hard to come by at times and everyone sort of leaned on each other and that's probably where that comes from," Jetta said.
"But it's also probably growing up in WA it was always hard to see an AFL player because they're so flat out and there's so much of a state for these players to get around to.
"To be accessible is something that I probably pride myself on, is to be able to give back where I can and to show that we are human.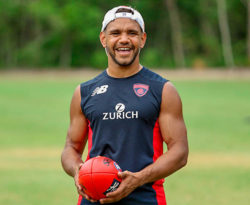 "Obviously we are on TV and stuff like that but to be accessible and be able to connect with people And to show them that I'm a footy player but I still have the same challenges in my life as some of you guys do, whether it be on the field or off the field.
"And it's something that I probably pride myself on is (to) get out there and connect and it's probably helped my footy as well and probably helped me more to be a better father and a better person as well."
Jetta also played a prominent role in launching the Demons' Reconciliation Action Plan (RAP), which was launched last year.
The RAP is a business plan that documents what Melbourne has committed to and will contribute towards reconciliation in Australia.
"The RAP was put together last year, we had Aaron Davey, myself, Austin Wonaemirri and Liam Jurrah come down," he said.
"And to have something put in place that the players, Indigenous players, can come into the footy club and know that these things are in place already, definitely make you feel a lot more at home within a footy club.
"And to be able to be a part of that is something I'm very proud of and to be able to create change within our footy club is something I'm looking forward to continuing to do throughout my time at the Melbourne footy club.
"And like I said, to have those players come back, it was a good day to see their faces again and talk about old times."
To watch the full interview, click the link below: