North Melbourne's Jenna Bruton has been named part of the All Australian squad
Former Golden Point and now North Melbourne footballer Jenna Bruton has been named to the 40-woman AFLW All Australian squad.
The midfielder had a terrific year with the Kangaroos, finishing the year with five wins in seven games but just missed out on a finals appearance after a final round loss to Fremantle and the AFLW's conference system.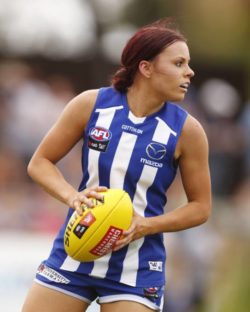 Bruton made the move to North Melbourne from the Western Bulldogs after their 2018 premiership.
In an interview with womens.afl, Bruton said she was glad she made the move and that it "felt like it was the right thing to do."
It came as little surprise to see the hard-working midfielder set a competition record for crumbs, ending the season with 12. She also averaged 18 disposals, including 9.2 contested a game and 272 metres gained.
Bruton polled in the top 10 in the AFL Coaches Association Player of the Year.
A final All Australian team of 21 including a captain and vice-captain will be announced at the W Awards in Melbourne on Tuesday, April 2.