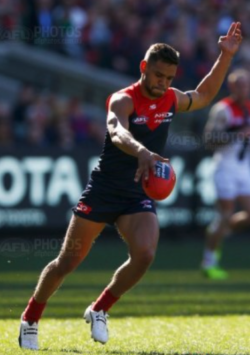 MELBOURNE'S Neville Jetta was looking at a team photo from his debut year in 2008 recently, and still can't quite believe he is one of two players who have survived one of the darkest periods in the club's 159-year history.
A fresh-faced Nathan Jones, who had a little more hair back then than he does now, is the only other player remaining on the Demons list 10 years down the track.
Jetta, who turns 28 next month, has been through six coaching changes, 'won' two wooden spoons, and been delisted at the end of 2013, only to be thrown a lifeline and re-drafted as a rookie.
Now with the Demons on the precipice of finals – he concedes he was left "sick in the guts" after last year's heart-wrenching round 23 loss that kept Melbourne out of the September action – the unrestricted free agent wants to remain loyal to the cause and enjoy some success at a club where he has experienced all the ups and downs.
"I would like to reap the benefits and have some success in my career with the club that I started with," Jetta told AFL.com.au.
"At the moment, I'm focusing on getting my body through pre-season, and if the club comes to me whenever they do, whenever they feel like it then I feel like I'm in a good space to have a chat about it. We'd obviously talk to my manager and go through all that stuff.
"Ideally, I would like to stay a one-club player and have some success with the group that we've got now."
Days after Melbourne's devastating last-round loss to Collingwood, and West Coast's subsequent win against Adelaide the next day that saw the Demons miss September action by just 0.5 per cent, Jetta booked a family holiday to Cairns.
He was desperate to get away from the sinking feeling he felt in the pit of his stomach on learning his team had failed to yet again make finals.
"It was one of the hardest moments that I've gone through in my career," Jetta said about learning his team had missed the finals for the 11th straight year.
"To have everything to play for and not get there made me sick in the guts."
Jetta said last year "proved we weren't ready to play for finals".
However, he is confident that after the acquisition of star young defender Jake Lever and with continued improvement from Clayton Oliver, Christian Petracca, Angus Brayshaw, Christian Salem and Jesse Hogan, the Demons are ready to make their mark on the competition.
"The club has never been in a better position," Jetta said.
After almost finding himself stuck in the football wilderness and off an AFL list at the end of 2013, Jetta has transformed himself into one of the competition's most reliable small defenders.
The dependable backman was recognised for his high-level of defensive excellence by inclusion in last year's All Australian squad of 40.
Although he did not make the final team, Jetta's reputation continued to rise throughout the season.
He was often played on the opposition's most dangerous small forward and, almost as often, found himself stuck one-out against a player the size of Carlton's Levi Casboult or Geelong's Tom Hawkins.
(Champion Data statistics only ranked him 22nd out of the top 75 general defenders in the competition for one-on-one contest wins, for a win rating of 35 per cent.)
Jetta said honing his defensive techniques at training on teammates Jeff Garlett, and big men Jesse Hogan and Cam Pedersen, had helped him adapt to playing on short and tall opponents.
"Being able to adjust to every player, and think my way through it has helped me in different situations," Jetta said.
"But it's also having that competitiveness to win and not be beaten.
"I hate letting people down. Whether it be my family or my teammates, I hate looking at their faces and realising that I've done something wrong.
"My teammates believe in me and trust me to do the job, so that's what keeps me driven."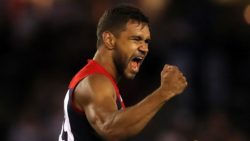 While Jetta has developed a reputation of being a hard man to play against, his ability to hit targets and retain possession for his team has also been an underrated facet of his game.
He is ranked No.1 in the AFL from 2011-2017 for the kick-rating stat, where Champion Data measures how well a player kicks the ball compared to the AFL average taking into account pressure, field position and intent.
Entering his 10th AFL season, and no longer a player on the fringe as he was in his first six years at the club, Jetta is a leader among his teammates and in particular among his indigenous teammates.
The boy from Bunbury in Western Australia sets high standards for himself and his team and that's why he believes so strongly in what the Demons are trying to achieve.
"I'm 28 this year, so to have some success would be unbelievable and would really cap off my career," Jetta said.
Stats supplied by Champion Data
Top five kick rating 2011-2017
Neville Jetta     +8.2%
Brent Harvey     +7.5%
Robert Murphy     +6.9%
Shannon Hurn     +6.8%
Chris Yarran     +5.9%