RIO, RAFA & THE BIG SWITCH
I brought the Olympic gold medal with me to Melbourne.
It lived in my sock drawer in Sydney for quite a while after Rio. I figured it was well-padded and the last place a robber would look. But mum didn't like that idea much. She told me she had a better hiding spot – allegedly to keep it safe but really, I suspect, so she could show it off to her friends when they popped around.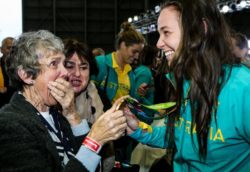 When I left rugby, signed with Carlton and moved to Melbourne, I reclaimed the medal from mum and packed it with my other things. It's not sitting anywhere special but, no matter where it is, I know it's there. It still symbolises one of the best moments of my life.
I never expected to be involved in AFLW so soon after the Olympics.
I remember sitting on the couch at home in February, 2017 watching the first-ever AFLW game between Carlton and Collingwood. The athletes were incredibly strong, fit and skilful. I was taken aback by the support that the girls received from right across the nation. There was a thought in the back of my mind, 'I'd love to give that a crack some day.'
But did I think at the time that I'd be doing it in 2018? No. That wasn't the plan.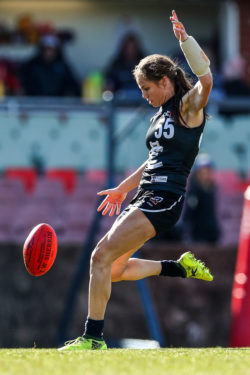 Brooke Walker and I have been nicknamed the rugby girls, by default of where we've come from. Hopefully, it's a name that won't stick around too long. I didn't sign an AFLW rookie contract with Carlton to be the Olympic rugby sevens exhibition player or anything like that. I'mdetermined to make it as a footy player in my own right.
It will be challenging. I get that. But I'm all-in.
The journey has already started. I've made the move from Sydney to Melbourne and played the VFLW season with the Blues. At the start, I felt like a little kid in the under-12s running around wherever the ball was, trying my best to get a handle on this new game. At the end, I was presented with the Blue Bloods award by Shannon McFerran, for upholding the club's values throughout the season.
It's been a huge honour to be a part of a club with such rich history and to learn from experienced coaches and players.
STALKING RAFA
I can't believe it's been more than two years since Rio. The time has flown. I still remember vividly the moment the fulltime siren sounded in the final against New Zealand and the feeling that came over me. It's hard to describe it exactly, but the closest word I can come up with is 'relief'.
We'd talked about winning the gold medal for so long. We'd focused all our energies on it. And, in that moment, we'd done it. It was like a pressure valve was released.
After fulltime, we ran into the stands where our teammates and families were. I had heaps of family and friends in the stands. They pulled me up into the crowd. Everyone was going crazy. There were endless amounts of tears. It was a day I'll never forget.
I'll also never forget the experience of being in the athletes' village. You'd be in the elevator, the doors would open and Penny Taylor would be standing there. I played for the Sydney University Flames in the WNBL before I switched to rugby, and Penny and the Opals had been my heroes growing up. Seeing them around the village was incredible.
I saw Rafael Nadal in the food court one day. I love Rafa. I was with a few of my teammates and I said to them, 'I've got to get a photo with him.' You could tell he just wanted to be alone and have his dinner, the poor guy. But we kind of stalked him. I picked up a piece of pizza, like I was just there casually eating dinner, but really I was following him around. I said, 'Rafa, Rafa,' but really quietly. I'm pretty sure he could hear me, but he ignored me. So we ended up just walking over and asking him for a photo. I was so nervous that I dropped my pizza on the floor and my thumb was covering half the picture. But it's still a great photo! You can still see us all. It's a keeper.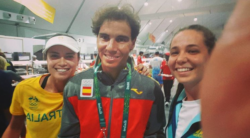 You can get free Maccas in the village and there was a rumour going around that Usain Bolt would come down and eat chicken nuggets before each race. I went down there every day hoping to see him. There were probably three or four days where I ate chicken nuggets for breakfast, lunch and dinner.
But I never saw him. Still worth it for the nuggets, though.
I did see Venus and Serena Williams in the foodhall, though. They walked past and I thought, 'Gosh, those girls look like the Williams sisters.' Even though I knew I was in the athletes village, my brain was telling me that walking past Venus and Serena isn't something that just happens. It took a few moments for it to process.
By then it was too late. They were gone. A selfie with Rafa would have to suffice.