Rugby 7's star Chloe Dalton is making her mark in the AFLW
DESPITE the disappointment of defeat, Carlton's Chloe Dalton won't forget Sunday's game against Adelaide anytime soon.
Dalton kicked her first AFLW goal for the Blues against the Crows, in a game which saw the visitors emerge victorious at Ikon Park.
The Blues found themselves 17 points ahead midway through the third term, but the Crows surged to kick six of the last seven goals of the match to run out 13-point winners.
An Olympic Gold Medallist in the rugby sevens, Dalton said while the loss was a tough pill to swallow, even though there were many positives to take from the game.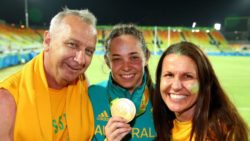 "It was definitely our game to win [Sunday], so that was a pretty disappointing way to end," she said after the match.
"It was a really big improvement compared to our first game last week against North, so there's definitely some positives to take away from it in that respect."
Including Dalton, there were a handful of Carlton's team playing in just their second AFLW match.
She put Adelaide's comeback down to a difference in experience between the two sides.
"We really had that momentum going forward and then we just let them back into the game," she said.
"I think we lost a little bit of composure in the third (quarter), but that's something we can keep working on moving forward."
After impressing for the Blues' VFLW team last season with her pace through the midfield, Carlton rushed to sign the speedy winger for AFLW 3.0.
Dalton said she is "absolutely loving playing AFLW" for the Blues, regardless of the two losses to begin the season.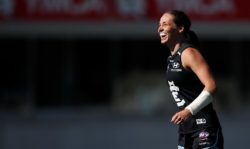 "It's been a massive step-up (from VFLW), and it's been tough," she said.
"Each week, there are so many things I'm learning."
"I've got a really good bunch of teammates around me. Whether it's on the field or off the field, they'll just come up to me and give me a bit of advice, so that's been awesome."
The advice from her team-mates has quickly paid dividends for Dalton, as she was able to kick her first goal in AFLW against the Crows.
"I was pretty stoked to kick my first goal," she said.
"It was off a 50-metre penalty, so I kind of got a bit of an advantage in that sense."
"But I was really excited. I had Mum and Dad out in the crowd, so it was pretty cool to be able to kick one."
Next week, Carlton will head to Sydney to take on the GWS Giants. The clash will be pivotal to the Blues' chances of rebounding in Conference B.
Dalton said if her team can play like they did against the Crows, it should hold them in good stead for a win.
"It'll be about playing a similar game of footy. What we were doing out there (against Adelaide), we did really well," she said.
"Coming up against the Giants, (it's about) making sure when we get ourselves into that position, that we're maintaining that composure and not getting frazzled in those scenarios.
"I think we're looking really good heading into next week."