When I came over, my manager here, James Vine, said: 'You either love Collingwood or you hate them, but most people hate them'. I said, 'Well, that's a good sign; that means you've achieved a lot because people only hate people who are doing well'. 
Back in Ireland, Dublin has achieved a lot in Gaelic football, men's and women's, and everyone hates them for it.
Dublin doesn't have an Eddie McGuire, though. There's no-one like Eddie McGuire in this world. That's a fact!
I came over for 10 days in May to meet with all the Victorian clubs and I ended up meeting Collingwood three times. They invited me to a game at the MCG and Eddie presented me with a jersey at the President's lunch.
I said, 'I haven't made any decisions yet', but he said, 'Welcome to Collingwood. What's your favourite number?' I wear No.14 at home and he said, 'Lucky you, we happen to have a jersey with No.14′, and my name on the back of it. What a coincidence!
They were just making a joke out of it – they weren't pressuring me or pushing me in any way. They were just like, 'You do what's best for you'. I felt like they were really good people.
Wayne Siekman was the coach who taught me how to kick. I picked it up pretty quickly; I responded well to his coaching techniques. And 'Maxy', Nick Maxwell, also is an absolute gem, so that's probably why I chose Collingwood. The facilities are unbelievable, as well.
All six teams were great, everyone was lovely. But I felt that Collingwood went above-and-beyond for me. I'm moving across the world to play football, I don't have family and friends here and I need good support and structure. 
I wanted somewhere I could feel at home, where I could contact anyone in the club and feel like they were there for me. I instantly felt that at Collingwood.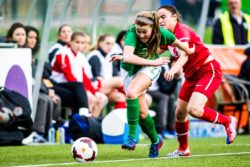 SPORT BACK HOME
Back in Ballina in north County Mayo, I started soccer a year before I played Gaelic, so soccer was my first love. But when I got into GAA in primary school, it became my clear favourite. My grand-dad played for Mayo. He was on the last Mayo team to win a men's All-Ireland Championship, in 1951, so it's pretty special in our house.
I played soccer until I was 20, played for Ireland from under-15s to senior level, and was trying to juggle playing with Mayo, my club and for Ireland.
Coaches started to pull at me a bit in different directions and I felt I was training every night of the week. I was mentally drained from just putting on boots every evening and never switching off.
Eddie presented me with a jersey at the President's lunch. I said, 'I haven't made any decisions yet', but he said, 'Welcome to Collingwood. What's your favourite number?'
I decided to focus on one or the other – originally for the short-term. We'd just had two years at under-19 level in soccer where we qualified for the European finals and beat England, Spain and Sweden to reach the semi-finals. It was a big deal in Ireland because it had never been done before.
At the time, the senior women's team was seeking a new manager. If the manager from my under-19s team had got the job, I probably would have given up GAA. However, he didn't, so I decided to focus on GAA which, in Ireland, is a bit like AFLW is here: on the rise.
The sport's gone from zero to 100 in the last three years since Lidl became the major sponsor and started doing a huge amount of marketing and promotion. The crowd on All-Ireland Final day went from 30,000 in 2015 to over 47,000, when we played against Dublin in 2017. This year it was a record 50,000.
It's not professional but the standard has risen a lot. We train quite similarly to the way the girls train here. I had to travel three hours each way to get to training, could get home at 1am and go to uni the next morning, but I did it because I love the game and my teammates.
IMMERSED IN THE GAME
I knew very little about AFL and even less about AFLW. 
I'd heard of Jim Stynes, Tadhg Kennelly and those guys, I'd heard of the International Rules series and a few Irish lads in Mayo who'd been contacted about going to Australia. But I hadn't watched many games.
After I played in that All Ireland Final, I met a guy who was in Ireland with a Victorian amateur team. He kind of explained it to me when we met and chatted about opportunities. 
Marty Clarke, who'd played for Collingwood a few years ago, got in contact and said Nick Maxwell was after my number. Soon I started hearing from other clubs, including each of the Victorian clubs. 
Collingwood was the first one I went into and when I walked out I was like, 'Oh, my God'. The facilities are unbelievable. The way Wayne and Maxy presented it to me was brilliant. The way they carried themselves was highly professional. I was completely blown away.
The million-dollar question at every club was: 'Can we watch you kick?' 
I'd never kicked the ball before Wayne asked me to. I started kicking it as I would a round Gaelic football. He said, 'No, kick it this way'. I understood the technique very quickly. We kick a lot in GAA; it's just a different-shaped ball and we use the inside and outside of our boot more than the middle.
Tackling was the part I was worried about. It's not something I'm used to, in either soccer or football. At my first training session, I got a strong tackle and it was probably the best thing that could have happened. It's part and parcel of the game, it's going to happen and I find it OK so far. Though, it may be different when we get into proper games. 
I've noticed that you need to get rid of the ball quicker. In GAA, you can dip and dive and dodge people, give the ball off and get it back again quickly, but I'd be tackled in AFLW. 
I've worked out the bounce but I don't know if it's good when I'm running at full speed! A football is so predictable, it bounces a certain way and it pops up again, but this ball, well, the 'unpredictable ball' is what I call it. 
I've talked to Mason Cox at the club once or twice and he said, 'That was me five years ago. Make sure you're taking on board everything everyone's saying'. I agree, but you also don't want to take on too much. You don't want to get overloaded. 
I do extra skills sessions on Tuesdays and Thursdays. There are quite a few of us learning the game. And, if they're not in my position now, they were last year. Eliza Hynes coming from volleyball, Georgie Parker coming from hockey, and others, have done what we're trying to do.
Sharni Layton, from netball, is a great girl and a big leader. We do a lot of training together and meet for coffee. I'm pretty sure no-one works in Melbourne. They just drink coffee and chat all day!
Sharni and I have a really good understanding. We are pushing each other and we're similarly driven and focused. It's nice to share people's stories and hear where everyone's come from. I've really enjoyed getting to know the girls. 
The hardest thing about the transition is probably understanding the rules and how the girls' minds work, so I can be in the right positions.
Collingwood was the first one I went into and when I walked out I was like, 'Oh, my God'. The facilities are unbelievable.
I'm not the most patient person in the world. I want to know now and be good now. I have to remind myself that I've come from a different sport to an elite level in a new sport. 
There's times when I think maybe I'm not cut out for it. But then I have a good day at training and it's fine again. I'm lucky that I'm 23, not 18 and, having played top-level soccer and GAA, I'm way better-equipped to deal with setbacks. 
Bouncing back is part of sport. I tell myself to move on to the next training session and not worry. I like to tick a box every day and, as the coaches say, 'Make sure you come off the pitch a better player'.
I focus on the small things. When they join together, you see progression. 
IRISH CONNECTIONS
I've been in contact a lot with Collingwood's two Irish guys, Mark Keane and Anton Tohill. We always have a good chat. We relate on many levels about the move. It's great to have them around. It seems they're progressing well.
My house-mate Ruby Schleicher and I have been to see the Irish boys in Geelong: Zac Tuohy, Mark O'Connor and Stefan Okunbor. They don't have any intention of coming home yet because they love the lifestyle.
I've been in contact also with Laura Duryea, who was the first Irish woman drafted for AFLW. Cora Staunton, who used to play for my team in Mayo, is with GWS. Her journey was closely followed back home, too, and it's great that she's done well.
It's a credit to the LGFA in Ireland how much work they've done to see things like this happening. It wouldn't have been as well-publicised even a few years ago, but there was great excitement and support when I joined Collingwood.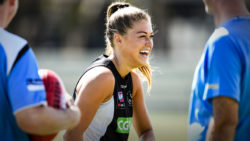 I've taken a ball back to Ballina for Christmas. I've got gym and running programs and I'll be working hard. I'll also catch up with my Mayo team because, when I finish my season with Collingwood, I plan to go back and play GAA. I look forward to that. I didn't get here on my own — my teammates and management back home have been so supportive. I really appreciate it. 'You can go for six months', they've said. 'But you have to come home again!'
I've never been paid to play sport. It's brilliant, but I'd play for nothing. I just love playing, it's my passion, the money is a bonus. I enjoy the training and I'm so grateful to be part of Collingwood, with its great facilities and having all these people helping me.
It may not have been in my plans a few years ago. I didn't expect to be here, but I feel blessed that I am.