The work-rate and hard yards behind Neville Jetta's moments of 'defensive brilliance'
Anna Harrington – September 12, 2018
IF anyone was doubting Neville Jetta's quality heading into the finals, they certainly weren't after Friday night.
While the Melbourne defender didn't have one of his more prominent games — having to deal with a shoulder complaint from the game's opening minutes — he still delivered some fine moments of poise, grit and class.
That included going head-to-head with one of the game's best one-on-one players in Patrick Dangerfield.
The Geelong star is often at his most threatening when he pushes forward, with his aerial strength and bodywork making him a dangerous forward.
But against Jetta, Dangerfield was at times lost for answers, losing four one-out contests to the Melbourne defender.
"This bloke is the story nearly of the year, Neville Jetta," Melbourne great Garry Lyon said on Fox Footy's On the Couch.
"He's playing on Patrick Dangerfield when he goes forward — everyone's said 'get out of the road, who's going to play on Patrick Dangerfield?'
"We asked Jake Lever … and he just said 'Neville Jetta', he didn't second-guess, he just said 'we'll put Neville Jetta on him.'
"(Jetta) beat him four times one-out. Four times against one of the great modern-day players."
Perhaps the highlight of Jetta's night was a spectacular one-handed contested mark.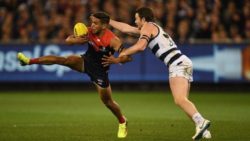 It was a grab a small defender arguably had no right to take.
But to his Melbourne teammate Sam Frost, it came as no surprise.
Having seen Jetta put in the hard yards on the track and behind the scenes, Frost said the defender's moments of brilliance came down to his workrate.
"He's unbelievable and it's the work he puts in behind the scenes. These glimpses of defensive brilliance are no coincidence to anyone within the club because you see him working on his craft all the time," Frost told foxfooty.com.au.
"His contest work's unbelievable, especially his ability to play on guys taller than him and probably stronger than him.
"But his technique and his craft is just unbelievable so it's no surprise that he does it every week for us, because we see him working on these sort of things, but he's an impressive player."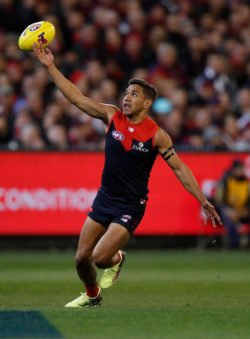 Jetta's story of resilience and hard work is familiar to many.
Having been delisted at the end of 2013 — then given a lifeline by Paul Roos and co as a rookie — Jetta turned his career around, becoming one of the finest small defenders in the competition.
Frost said Jetta's story and "unbelievable" resilience and workrate set a brilliant example for his teammates.
"Absolutely, it's a great story and the resilience he's shown is unbelievable," he said.
"And just his ability to work hard and probably know what he needs to work on and just go and do it — he doesn't waste any time, he works on his strengths, he works on his deficiencies and he had a lot of work to do.
"Obviously I wasn't here but I've heard the story a number of times and he had a lot of work to do and a lot of trust to gain.
"And just the way he goes about it, without any complaints, he sets a really good example for everyone."