Tiarna Ernst announced the winner of AFL Players Education & Training Award 2018
After graduating as a doctor in 2011, Ernst is undertaking a training program with the Royal College of Australia and New Zealand of Obstetricians and Gynaecologists, having already completed four years of the six-year course.
An AFLW premiership player with the Bulldogs, Ernst spends 86 hours per fortnight working at Monash Health performing obstetric and genealogical procedures.
"The opportunity to work with females at a pretty significant time in their lives, particularly the pregnancy side of it, is rewarding," Ernst told AFLPlayers.com.au.
"I make sure we are supporting women before they fall pregnant during the pregnancy, during the labour, during the delivery and after pregnancy as well."
While most would struggle working in one of her professions, Ernst loves the challenge of balancing both.
The secret to Ernst juggling full-time work, study and football is in alleviating negative emotions.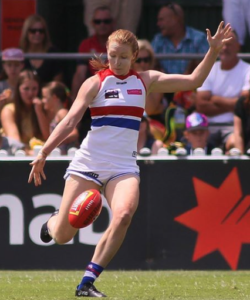 "I suppose the biggest thing I've been trying to enable and the thing that has allowed me to achieve both is that I've worked with Richard Malone through Quality Mind," she said.
"He runs a program which is tailored towards professionals and sports people on how to eliminate pressures and anxieties and to be able to balance everything.
"It helps me understand what's important and how to be more efficient with my time."
What has been a real highlight of Ernst's studies and training program is the outlet it has given her away from football.
It's why Ernst says anything can be achieved if you put your mind to it.
"You can achieve pretty incredible balances if you put your mind and heart into it," she said.
"I think it's incredibly important. Football isn't the be-all and end-all of life, there's a lot of time where you can have experiences outside of football.
"It makes you a much more rounded individual if you have interests outside of football."