Unassuming Demon Jetta flies under the radar
Peter Ryan (The Age)
No one asked Melbourne coach Simon Goodwin about Neville Jetta's game after last week's win over the Western Bulldogs.
His name hasn't been raised at media conferences in the past month either as the unassuming 28-year-old goes about compiling a season good enough to have him in All-Australian discussion for the second year in a row.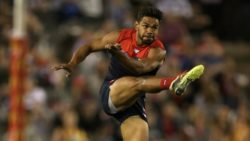 That's the way it is for the less flashy of the Jettas, one of only two players from the Demons' 2009 list still at the club, sharing both the same initials as Nathan Jones and memories of years without team success.
From Bunbury in Western Australia, he famously deferred his meeting with then Demon recruiters Barry Prendergast and John Turnbull after the car his dad was driving broke down as they returned from a roo hunt.
The recruiters weren't deterred, as impressed that he had returned to finish school at the Clontarf Academy as they were at his best afield performance with Swan Districts in the Colts Grand Final that year.
Their sense of him at the time was that he would handle a move to Melbourne and make it work.
''He's tough,'' Turnbull told Fairfax Media.
''He's a genuine footballer and a genuine guy.''
Few will play a more important role than the quietly spoken West Australian as Melbourne attempt to defeat Collingwood on Queen's Birthday at the MCG and move into second for the first time since 2005.
His backline coach Troy Chaplin knows he can rely on Jetta regardless of the match-up he finds in a Collingwood forwardline that will contain Jordan De Goey, Jaidyn Stephenson, Will Hoskin-Elliott, Steele Sidebottom and Adam Treloar at various times throughout the day.
''He can play tall or small and he has the ability to win the ball back for us, which is a great trait to have,'' Chaplin told Fairfax Media.
''He is a competitive bugger and that is what we love about him.''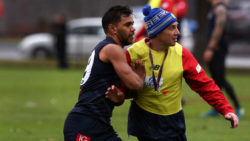 The apparent lack of media interest in his progress is not due to a lack of respect.
Jetta has been understated ever since his career re-ignited when Paul Roos arrived as coach in 2014.
Now as dependable as a warm coat, he's played 86 of his 127 games since 2014 after playing just 41 in his first five years at the club.
''If I was backing someone to play for my life on a like-for-like type player I would probably pick Nev,'' Roos told Fairfax Media.
Roos' admiration for him is clear, having seen enough of him to like before he took the job to ensure the Demons offered him a rookie spot in 2014 rather than delist him.
Jetta, with the backing of his family, took his second chance.
''He just worked really hard,'' Roos said.
''He realised he wasn't the fittest guy and all of a sudden he became a really dedicated player and just trained hard and did extras.''
His contest work was on display against the Western Bulldogs when he played his best game for the year, stepping up after Jake Lever went off with a knee injury to take seven intercept marks and win 11 contested possessions as he collected 24 disposals.
He works on that aspect of his game too, with Jetta often seen testing his wits and strength against bigger-bodied teammates at the end of training on Gosch's Paddock.
''He knows that he has to train, and train in a competitive manner because then it leads into a game,'' Chaplin said.
''He looks beaten a lot of the time but he just finds a way.''
Such players become coaches' dreams as they carry the glue that holds defensive structures together.
That Melbourne defensive unit turned their form around after hard conversations were had following the loss to Hawthorn in round four.
They showed good signs in the Anzac Eve loss to Richmond before hitting a rich vein of form to concede an average of just 62 points per game in their current winning streak of six games.
They have restricted the opposition to fewer than 60 points in the past three games, the first time Melbourne has been so frugal in three consecutive games since rounds 10-12, 1963.
Jetta has been a key part of that, with his importance only set to grow with Lever missing for the season.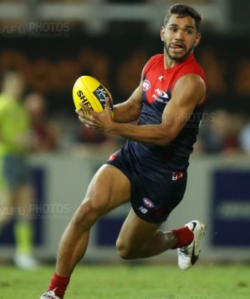 ''I have seen him play on all those good forwards over the years and if the ball is going in he is generally nervous but when Nev is there you are not anywhere near as nervous,'' Roos said.
''Putting his magnet on the board gives you a great sense of confidence.''
It's why the Demons are determined to retain the free agent, whose value as a defender cannot be underestimated in an era when small forwards are bobbing up inside every contender's forwardlines like weeds.
''The team comes first [for Neville],'' Chaplin said.
''[He's] very level-headed, family-oriented and loves the community and helping wherever he can. He is just such a generous person.''
Unless, of course, you're an opposition forward.