Winter Olympics: Belle Brockhoff on track after Germany comeback
Article by Nicole Jeffery in The Australian on 6th February 2018
World Cup-winning snowboarder Belle Brockhoff has made a successful comeback from what was initially feared to be a season-ending knee injury, just five days before the Winter Olympics begin in PyeongChang.
Riding in a knee brace, Brockhoff returned to the international circuit at Feldberg in Germany on Sunday, and finished a promising eighth in the final World Cup event before the Games.
Australia's leading female snowboard cross specialist, 25-year-old Brockhoff tore the anterior cruciate ligament in her knee training for a World Cup event in France in December, the second time she has snapped the ligament in the past year.
She did not have enough time to undergo a full knee reconstruction and be back for the Games, so she has taken a different path to keep her dream of a second Olympic appearance alive.
She returned home for a medical assessment and after minor surgery to clean out the joint, she was given the all-clear to fast-track her return with the aid of a knee brace, which is providing the support that her knee would normally receive from the ligament.
Brockhoff, who received her medical clearance to compete at the Olympics last week, had been back on snow for a week before she competed in Feldberg.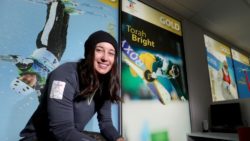 Her original plan was "to compete in just the time trials and maybe do one round of heats", but after qualifying third fastest and finishing second in her quarter-final, she decided to complete the competition.
She reached the consolation (small) final but decided not to contest the start of the final race to reduce any risk of reinjuring her knee before the Games.
She deliberately took off half a second after her competitors but showed good speed to finish on their heels.
Brockhoff said it was "good to be doing the sport I love again".
"It felt really good to be back. I laid down a solid time trial even with a few mistakes," she said.
"(I) took a really hard landing during the first heat which flared up my knee a bit but I wanted to push through the pain.''
With one race behind her, Brockhoff said she was really looking forward to the Games..
"I know I didn't have an excuse to not be in the big final by looking at the way I was riding but I'm really happy regardless with where I'm at,'' she said.
"I haven't raced in 11 months so I really needed to get this under my belt. It gave me a lot more confidence with my riding but I do have a lot of hard work to do."
She has taken her inspiration from reigning Olympic champion Pierre Vaultier, who raced to the gold medal without his ACL in Sochi four years ago, having injured his knee during the season.
In the men's event, former X Games champion Jarryd ­Hughes was Australia's top performer, finishing in sixth place in his last hitout before the Games.
"I was able to carry some speed through heats and then got to work on my starts which was huge," Hughes said. "I definitely improved throughout the day and in the small final got to practise some passing and get some battles happening which is good heading into Korea.''
Dual world champion Alex "Chumpy'' Pullin finished ninth in Feldberg ahead of Olympic teammates Cameron Bolton in 14th and Adam Lambert 19th.